Rap battle: French hip-hop stars arrested after brawl at Paris airport disrupts flights (VIDEO)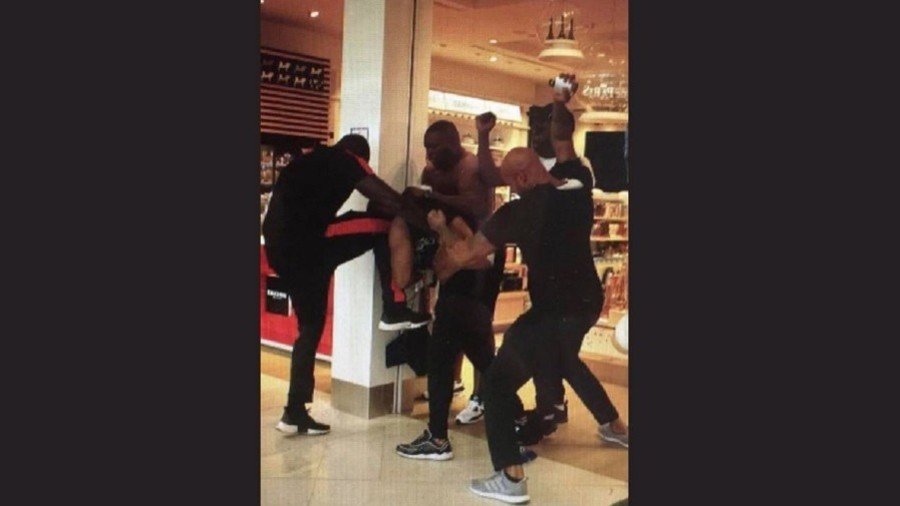 An all-in brawl between two rival French rappers led to the cancellation of flights in Paris. Rappers Booba and Kaaris and their crews attacked each other, crashing through a duty free shop and using perfume bottles as weapons.
In a viral video currently exploding on social media, frightened travellers at the Paris-Orly airport can be seen scurrying to safety, while others filmed the rap stars and their entourages engaged in fisticuffs.
Caught on camera, the group brawl takes over a large section of the terminal. Men can be seen punching and kicking at each other, before crashing through a cosmetics store to the shock of onlookers. As a result of the mass melee, flights were cancelled, delayed, and one departure lounge was shut down for a short period of time.
The two rappers, who were both due to play in Barcelona on Wednesday night, were arrested by police. Nine others from the duo's entourages were also arrested.
The airport confirmed in a statement on Twitter that the terminal one was temporarily shut following a "dispute between passengers".
#Orly West Hall 1 closed due to dispute between passengers. #Police intervention and people under police supervision. Flight schedule may be disrupted for flights departing from Hall 1. Check flight info via : https://t.co/g8HYpd5gIL and on the screens to check boarding gates.

— Paris Aéroport (@ParisAeroport) August 1, 2018
Booba, whose real name is Elie Yaffa, has a history of tiffs with other French hip-hop artists. Booba and Kaaris even collaborated on a song called Kalash in 2012 - before relations between the two men soured.
If you like this story, share it with a friend!
You can share this story on social media: