Breastfeeding, boozing & brain damage: Study reveals major risk factor for babies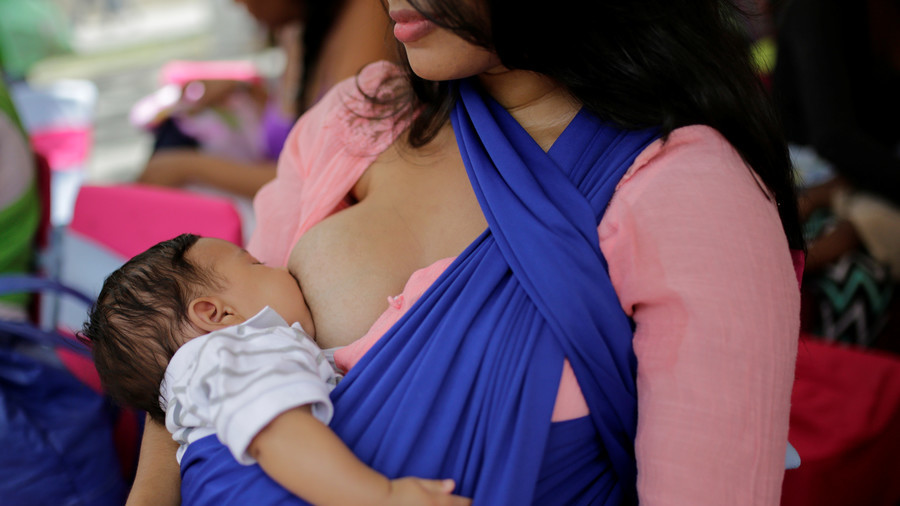 A study in Australia has found that women who drink alcohol while breastfeeding may be doing unwitting damage to their children's brains. It recommends mothers abstain from booze until their baby is fully weaned.
READ MORE: Russia stood up for breastfeeding protection when other countries yielded to US pressure – activist
Researchers at Macquarie University in Sydney had been monitoring 5,000 children and their mothers since 2004. The scientists found that the more alcohol women consumed, the greater the risk that children develop cognitive difficulties up to the age of seven. Children whose mothers consumed alcohol and didn't breastfeed were said to have shown no decline in thinking and reasoning skills.
"This matters because it suggests that there is no safe level of alcohol for a breastfeeding mother to drink," Louisa Gibson, a doctoral student in neuropsychology at Macquarie University and the study's author, told Reuters. "The safest option is for a breastfeeding mother to abstain from all alcohol until her baby is completely weaned off breast milk."
Gibson believes that the alcohol may damage brain cells or change the nutritional value of the breast milk itself. This could, in turn, upset the baby's sleeping patterns, leading to a slowing of the child's development.
The damage may not be permanent, however. The study, published in the journal Pediatrics, shows that children who were re-tested between the ages of 10-11 returned normal results.
Curiously, the study did not find negative effects on infants from women smoking while breastfeeding. However, Gibson maintains that it's probably still a good idea to abstain. "That does not mean that it is safe to smoke," she said. "If women are having difficulty giving up alcohol and cigarettes they should talk to their doctor about ways to reduce their intake to minimize the impacts on the baby."
READ MORE: Topless FEMEN protester hauled off by Vatican police while breastfeeding (VIDEO)
According to the UK's National Health Service, some 73 percent of new mothers breastfeed as it reduces a baby's risk of sudden infant death syndrome, childhood leukaemia, obesity and cardiovascular disease in adulthood. It also lowers a mothers risk of breast and ovarian cancer as well as osteoporosis.
Think your friends would be interested? Share this story!