Russia stood up for breastfeeding protection when other countries yielded to US pressure – activist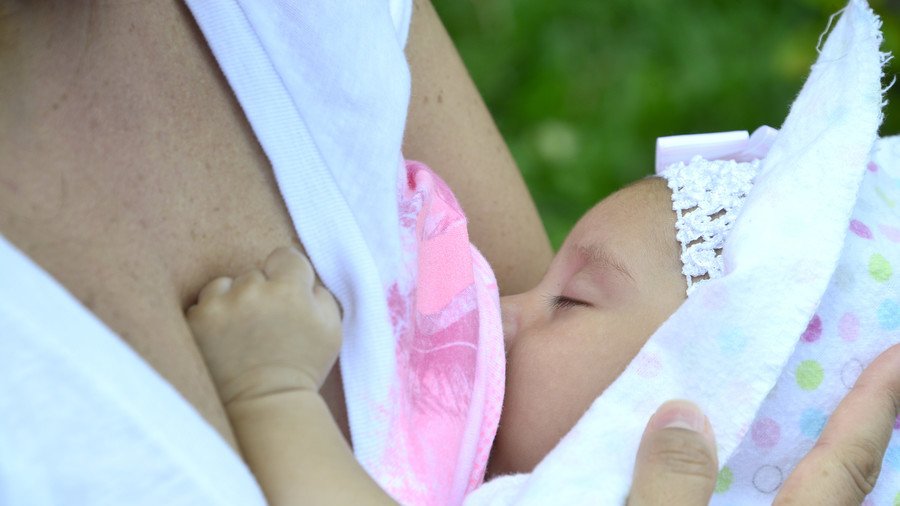 The US pressured Ecuador to drop a pro-breastfeeding resolution by threatening to drop aid, the NYT reports. A breastfeeding advocate confirmed the report to RT, stating that losing money would be a "big deal" for poor countries.
According to the New York Times, the pressure was piled on this spring in Geneva, as states gathered for the World Health Organization's World Health Assembly. Ecuador had planned to introduce a resolution which encouraged breastfeeding – but they suddenly backed out, because the US reportedly said it would impose damaging trade restrictions and cut military aid if it went through with the measure.
"The resolution had already gone through quite a few meetings and discussions with member states before the World Health Assembly started and a consensus statement was reached and everybody was happy with it," Baby Milk Action policy director Patti Rundall, who was present at the meeting in Geneva in May, told RT.
But suddenly Ecuador, which had been organizing the resolution and relevant meetings, wasn't prepared to go through with it, a move which "shocked everybody," according to Rundall. She also noted that it wasn't just Ecuador that got cold feet.
"We were talking to all the other countries and could see that they were backing off and very frightened that they would be sort-of got at by the US government if they went forward," she said, noting that a lot of countries –particularly poorer ones– take money from the US in some form of aid so it is "a big deal for them to actually lose that money."
And while Rundall said she "didn't want to give too many details away," she indeed confirmed to RT that the US did issue threats to achieve its goal of having the resolution dropped. "Even though I've argued with US politicians and they say it didn't happen, it definitely happened," she said.
Rundall went on to explain that another country then needed to come in take the resolution forward, and Russia stepped up to the plate. "I'm really pleased that Russia did take it forward on a very good basis to actually make sure that breastfeeding would be protected," she said, but noted that the US then put their own alternative resolution forward "with nothing in it." She said it was "only thanks to other member states that they managed to keep some good things in the [new] resolution."
The breastfeeding advocate also went on to address a tweet by US President Donald Trump, in which he referenced the New York Times article as "fake news," stating that the US "strongly supports breastfeeding but we don't believe women should be denied access to formula. Many women need this option because of malnutrition and poverty."
The failing NY Times Fake News story today about breast feeding must be called out. The U.S. strongly supports breast feeding but we don't believe women should be denied access to formula. Many women need this option because of malnutrition and poverty.

— Donald J. Trump (@realDonaldTrump) July 9, 2018
That tweet, according to Rundall, is "truly nonsense" because the resolution was merely about making sure that formula products on the market are quality ones, and that advertising boasting the benefits of unhealthy products are limited. She said it wouldn't have denied women access to baby formula.
Meanwhile, reactions have been rolling in on Twitter since The New York Times report was released on Sunday, mostly criticizing the Trump administration for selling out to corporate interest. Some even emphasized the irony of how Moscow became the "good guys" given the current 'Russiagate' climate in the US.
Unethical and shameful: The US —selling out to corporate interests— threatened Ecuador w sanctions for encouraging governments to "protect, promote, and support breastfeeding." https://t.co/kOjMxQczNp

— Senator Jeff Merkley (@SenJeffMerkley) July 9, 2018
woke up this morning thinking about how the US threatened Ecuador with economic sanctions if it encouraged breastfeeding among its citizens. i believe people still don't fully realize how truly evil the administration is and how evil this country is in order to have allowed it

— carvell (@carvellwallace) July 9, 2018
Wow. We are trash. This is so embarrassing. Glad murderous-human-rights-abusing-Russia could step in and be "the good guys" here while we acted like a bunch of corporate mobsters, threatening Ecuador and Uruguay for protecting breastfeeding. https://t.co/zLIJT1OCDU

— Jahm Beozs (@jenbillsy) July 8, 2018
The oddest part of this story is not the Trump admin's breastfeeding stance. That's expected. Its after threatening Ecuador and acting like a bully then complete silence when Russia sponsors the virtually same resolution. Putin is clearly Trump's puppet master.

— Jon Karmel (@jonlaborlaw) July 8, 2018
Disappointing. Breastfeeding mothers should be supported.The US opposition to the resolution was misguided. On behalf of nursing babies everywhere, THANK YOU to Mother Russia! https://t.co/tTLUAxhrUU

— Bill Kenobi (@docBWD7) July 8, 2018
Breastfeeding has long been touted as the preferred source of food for infants, with the Centers for Disease Control and Prevention agreeing that babies who are breastfed have reduced risks of asthma, obesity, Type 2 diabetes, ear and respiratory infections, and sudden infant death syndrome (SIDS). It is also beneficial for mothers, leading to less risk of heart disease, Type 2 diabetes, ovarian cancer, and breast cancer. While the sales of baby formula have been flat in the West over the last few years, they were on the rise in developing countries.
RT reached out to the WHO about the New York Times report, with a spokesperson stating that the organization is "not in a position to comment on exchanges between different delegations" at the assembly. It touted the benefits of breastfeeding in its response, saying that it estimates that about 820,000 child lives would be saved every year if all infants under the age of six months were breastfed.
RT has reached out to the US and Russian delegations, both of which have yet to respond.
If you like this story, share it with a friend!
You can share this story on social media: