Russian military prevents drone attack on Khmeimim base in Syria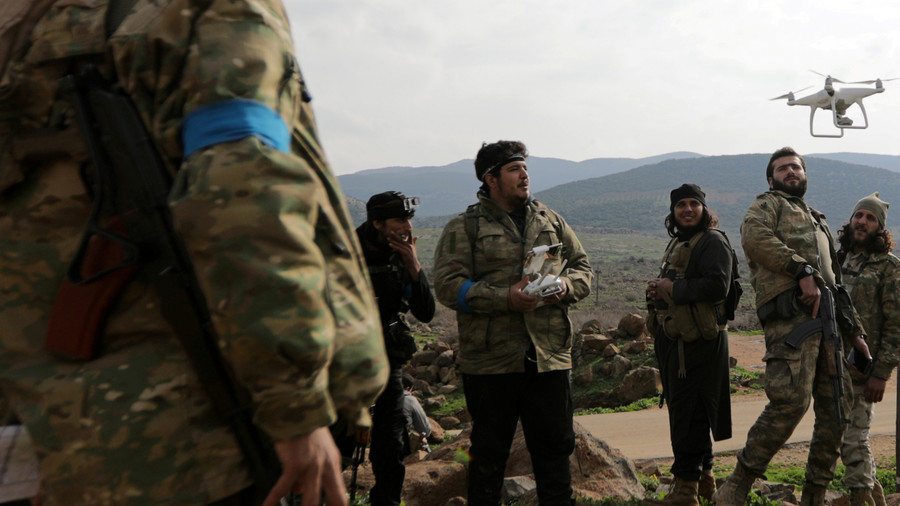 A drone, launched from a militant-held area towards Russia's Khmeimim base in Syria, was shot down by the airfield's defenses on Friday, the Russian military has reported, urging militant commanders to cease all provocations.
The UAV was launched after dark from an area controlled by illegal armed groups in the north of Latakia province, according to a statement from the Russian Reconciliation Center in Syria.
"The aerial target was destroyed at a significant distance from the base" by anti-aircraft fire in a routine manner, the military said, noting there were no injuries or material damage. The Khmeimim base has recently been a frequent target of drone attacks, with at least three similar incidents occurring this month alone.
The largest assault on the Russian airfield was launched in January and involved at least ten UAV's simultaneously targeting the base. Three other drones also tried to approach the Russian maritime logistics center in the city of Tartus.
The majority of the intruders were successfully downed by the Russian Pantsir-S1 anti-aircraft weapon system. Radio electronics warfare specialists also managed to override the operating systems of other drones, forcing them to land in order obtain the militant hardware.
Despite the attack being fruitless, the Russian military has sounded alarms over the terrorists being in possession of advanced drone technology, saying there's a real risk of unmanned aircraft being used against less-protected targets in other countries.
READ MORE: Threat of terrorist drone attacks is real, says Russian military after assault on base in Syria
The Russian military urged the militant commanders to refrain from provocations and to engage in a peaceful settlement of the Syrian conflict. Over the last few months, the majority of militant groups in Syria agreed to surrender in exchange for safe passage for them and their families. Refugees are returning to the areas formerly occupied by terrorists, with Russia and other countries helping with humanitarian aid. Yet this week has been marred by a series of suicide attacks in Syria's south-west.
Think your friends would be interested? Share this story!
You can share this story on social media: