Israeli police seal gates to Al-Aqsa Mosque after clashes with Muslim prayers (VIDEO)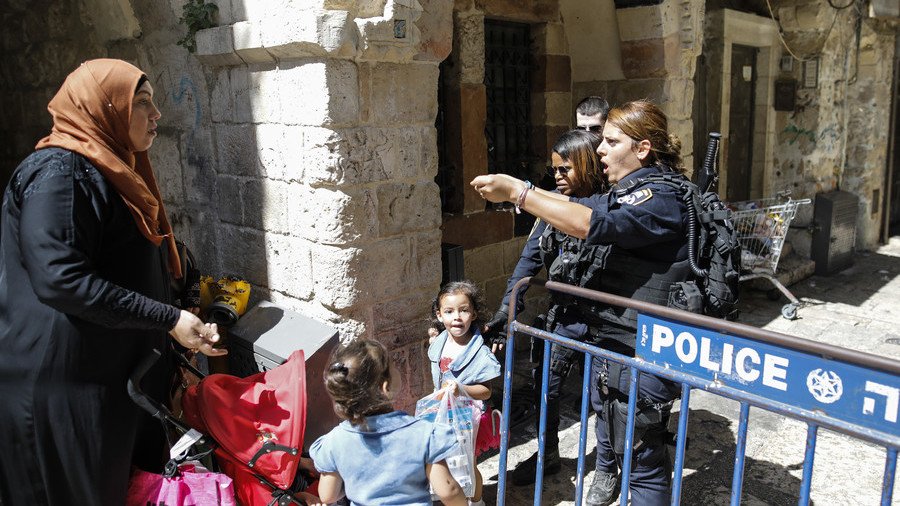 Israeli police have reportedly closed the gates to the third-holiest site in the Muslim world, Al-Aqsa Mosque, after clashes with Palestinian worshippers. Some "suspects" are barricaded in the mosque, according to police.
Protests erupted on the Temple Mount, the location of Jerusalem's most important mosque, on Friday. Israel police say that clashes started after someone attacked them with stones and fireworks, prompting the security forces to respond with grenades and stun grenades, Haaretz reports.
Blasts can be seen on footage that purportedly shows the clashes, while "Allahu Akbar" can be heard in the background.
Jerusalem: Muslim worshippers are clashing with the @israelpolice on Temple Mount, the police officers are responding with tear gas, one police officer was injured from a rock to his face. pic.twitter.com/lQ4YXeeqIy

— Israel News Coverage (@IsraelNewsCvrge) July 27, 2018
The gates to the Al-Aqsa were closed after the stand-off, according to AFP and Haaretz, citing the Jerusalem Islamic Waqf controlling the area. Police say several people were arrested and the operation is still ongoing, as some people barricaded themselves inside.
Palestinian media reported that the Israeli forces also "unleashed barrages of bullet fire and acoustic grenades" after the worshipers tried to push them out of the site.
Dozens of Palestinians were injured in the clashes, according to the Palestinian Information Center. Meanwhile, Israeli media reported that several people sustained minor injuries, citing the Waqf in Jerusalem.
Think your friends would be interested? Share this story!
You can share this story on social media: