17yo Palestinian kills 1, injures 2 Israelis in knife attack in West Bank settlement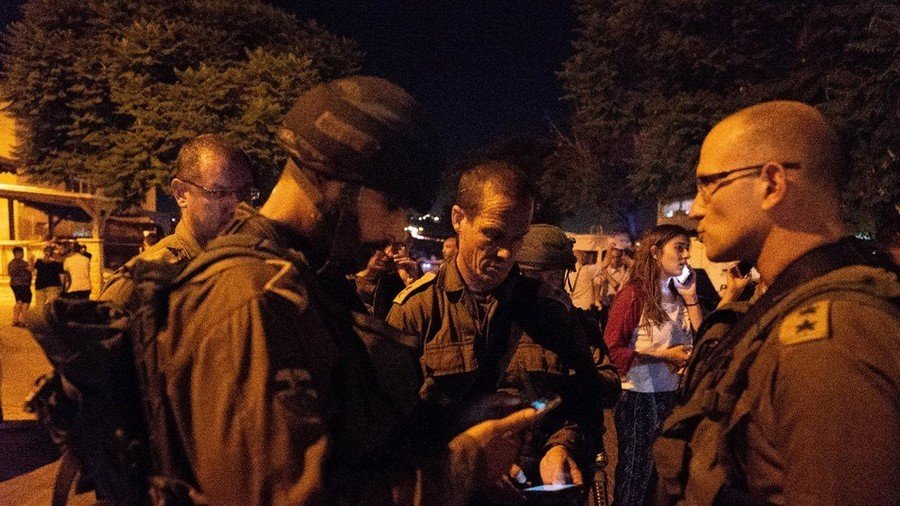 One person has been killed and two injured in the latest stabbing attack, this time carried out by a 17-year-old Palestinian, who entered an Israeli settlement in the West Bank for his attack and who was killed during the act.
The attack by the young Palestinian, who was later identified as Muhammad Tareq Yusuf, happened on Thursday around 9:00 pm local time. He climbed over the perimeter fence in the West Bank settlement of Adam, located between Jerusalem and Ramallah, and stabbed three people before being gunned down, local media reported.
Magen David Adom, 31, who was critically injured in the altercation, later succumbed to his wounds at the Jerusalem Hadassah Medical Center. Another victim, a 58-year-old man, remains in serious condition. The third man, who shot the attacker, suffered light injuries and was treated at the Shaare Zedek Medical Center.
Just an hour prior to his attack, the teenager wrote a Facebook post announcing that "time has come for a great revolt," as he condemned Israeli crackdown on Palestinians in the Gaza Strip and the West Bank. The Palestinian militant group Hamas praised Yusuf's attack, calling it "a natural response to the crimes of the occupation".
READ MORE Israeli policewoman killed in ISIS-claimed stabbing attacks in Jerusalem
The Israeli military called the attack an "infiltration by a terrorist" that ended with him being killed. Israeli security officials believe Yusuf may have been inspired for his attack by a similar stabbing, by Omar al-Abed from the same the West Bank village of Kobar.
The stabbing, which is reminiscent of dozens of similar incidents in late 2015 and 2016, dubbed "the knife intifada" by some media, occurred against a backdrop of a tense stand-off between Israeli military and Palestinians at the Gaza Strip border. Three months of protest at the border fence have been increasingly violent as the Israeli Defense Force deploy snipers to quash Palestinian protests. The response became increasingly violent too, with Palestinians using incendiary kites and, lately, mortar and rocket attacks against the Israelis.
READ MORE: Gaza teenager killed, dozens injured as Great March of Return marks over 100 days (VIDEO)
The development of Israeli settlements in the Israeli-occupied West Bank, which is proceeding despite objections from the international community, is one of many points of confrontation in the Israeli-Palestinian conflict.
Think your friends would be interested? Share this story!
You can share this story on social media: