'I don't deserve to be compared to Satan' – Italy's Salvini responds to Catholic critics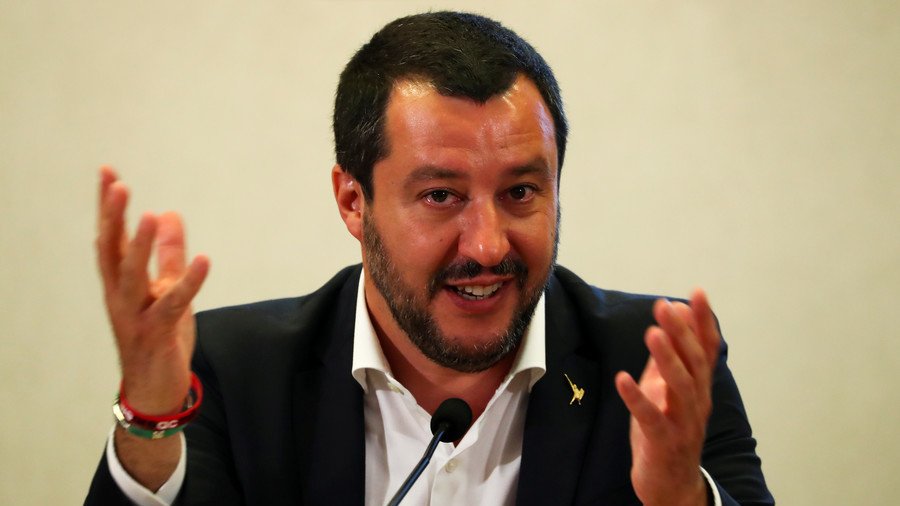 Euroskeptic Italian Deputy Prime Minister Matteo Salvini has hit back at critics, after a Catholic magazine depicted him as Satan for his anti-immigration policies.
"Vade Retro Salvini", read the front cover of Famiglia Cristiana, a popular Catholic weekly. The cover depicted a hand resting on Salvini's forehead, while the title was a play on the words uttered by Catholic exorcists "Step back Satan."
Inside, the magazine slammed Salvini for his government's decision to block migrant ships from landing at Italian ports. Salvini has argued that, due to its location on the Mediterranean Sea, Italy takes in a disproportionately large number of migrants, many of whom arrive on 'rescue ships' operated by international NGOs.
"They are comparing me to Satan? I don't deserve that," Salvini responded. "I am comforted by receiving daily support from many women and men of the church who encourage me and ask me not to give up," he added.
Salvini's Northern League party rose from obscurity to become the third-largest party in Italy at this year's elections. Riding a wave of anti-EU and anti-immigration sentiment, the Northern League allied with Luigi Di Maio's anti-establishment Five Star Movement to form a government after three months of negotiations.
Since assuming office, Salvini's government has clamped down on the flow of migrants into Italy. Last month, Italy blocked a ship carrying hundreds of migrants from docking and warned that Italy would no longer "be complicit in the business of clandestine immigration." Dubbed "the Sheriff" in the Italian press, Salvini vowed to keep the country's ports closed for the whole summer, and quipped "NGO rescue ships will only see Italy on postcards."
His stance has set him at odds with the country's influential Catholic Church, with the magazine article quoting numerous Catholic bishops in its criticism of the Italian leader. Pope Francis has been a staunch critic of closed-borders policies worldwide, and has repeatedly called on the EU to do more to help migrants.
On Tuesday, Salvini slammed as "charity" an EU offer to give member states €6,000 for each migrant they rescue; he argued that each migrant costs the state between €40,000 and €50,000.
"If they want to give money to someone else they can do so. Italy doesn't need charity," he said as cited by the country's ANSA news agency.
Think your friends would be interested? Share this story!
You can share this story on social media: