Horrified passengers rush to save woman dragged by moving train (VIDEO)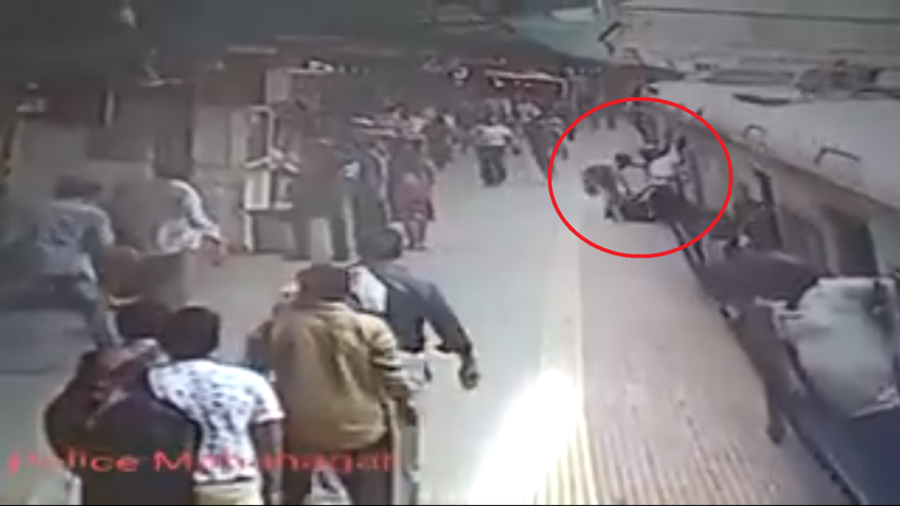 The death-defying moment a woman was saved from being dragged right under a moving train in Mumbai has been captured on CCTV.
The close call took place at Mumbai's Kanjurmarg railway station on Tuesday, when a woman slipped while boarding a local train. Luckily, a quick-thinking Railway Protection Force (RPF) officer came to rescue and grabbed the woman before disaster struck.
Initially, as passengers leapt onto the crowded train, her sari appeared to get stuck in the door and she fell to the ground. CCTV footage shows her being dragged along the platform by the moving train in front of horrified onlookers before officer Raj Kamal Yadav rushed to save her.
Heroic attempt by RPF constable Raj Kamal Yadav who saved the life of a woman by pulling her from getting under the train at Kanujmarg Station near Mumbai. I am very proud of our Railway family which is working non stop to ensure the safety and convenience of our passengers. pic.twitter.com/BBY0FrVW5p

— Piyush Goyal (@PiyushGoyal) July 25, 2018
He ran alongside the train as it began to move out of the station, pulling with all his might until he himself stumbled and fell to the ground, losing his grip on the woman. Passengers on the train appeared to free her sari and the woman fell on the platform, her legs almost crushed by the train.
READ MORE: Passenger dragged by moving train in shocking CCTV footage (VIDEO)
She lay on the ground as fellow passengers rushed to her aid and pulled her away to safety.
Like this story? Share it with a friend!
You can share this story on social media: