'NGO ships will only see Italy on postcards': Italy's Salvini vows to keep ports closed all summer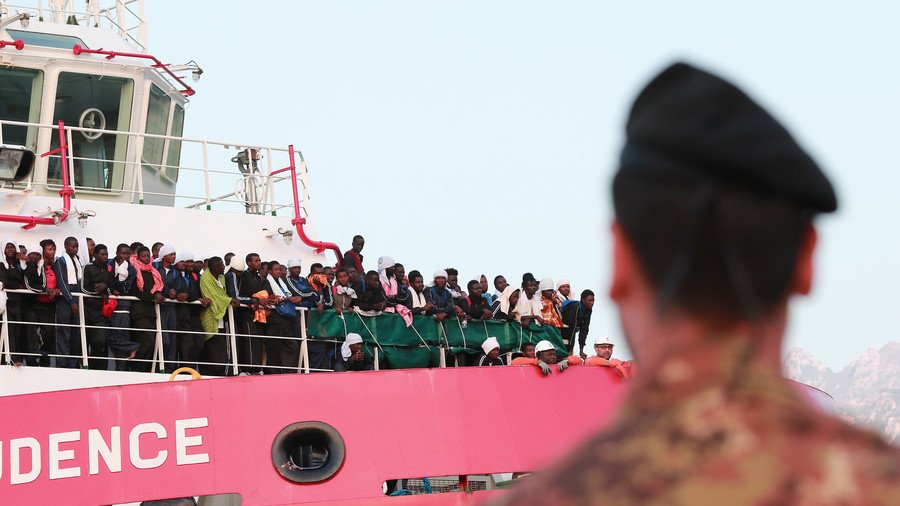 No NGO rescue ship carrying migrants will be allowed to dock in an Italian port, the country's interior minister Matteo Salvini has said, following a unanimous decision by EU leaders to review migration policy.
Commenting on the outcome of almost 10 hours of tense discussion between he 28 European leaders on the pressing issue of migration, Salvini said the agreement was too opaque, and warned that it had better not bypass Italy's interests again.
"NGO rescue ships will only see Italy on postcards," the interior minister told Radio Capital on Friday, reaffirming that Italy would not yield when it comes to migration.
Dubbed "the Sheriff" in the Italian press, Salvini insisted that whatever was decided during the EU summit would not alter the fact that Italian "ports will remain closed throughout the summer" to all NGO rescue ships that try to dock.
Although migration talks, which concluded only at dawn on Friday, had reportedly left Italian PM Giuseppe Conte satisfied, Salvini insisted that he did not "believe in words, because until now, it has always been 'viva Europe' at Italy's cost."
With more than 640,000 migrants crossing the Mediterranean to reach Italian ports since 2014, Italy has become the primary destination for migrants and NGO ships. Interior Minister Salvini and his coalition partner, Italy's Deputy Prime Minister Luigi Di Maio, have repeatedly slammed NGOs for being involved in illegal human trafficking.
READ MORE: Roman Holiday over for migrants: New interior minister vows end to 'refugee camp' Italy
Although numbers have plummeted dramatically this year, with just 14,500 migrants arriving to date, Salvini vowed to not only stop the influx – but also to proceed with massive deportations.
If you like this story, share it with a friend!
You can share this story on social media: