9 times Trump took on the world via Twitter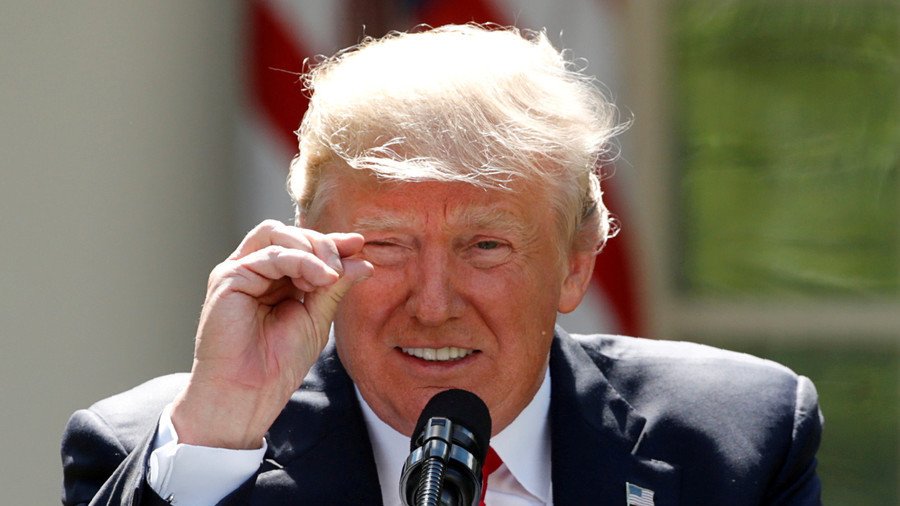 After, once again, taking to Twitter to threaten war with another nation over the weekend, RT takes a look at US President Donald Trump's most threatening tweets targeting world leaders, celebrities and even restaurants.
Trump's twitter feed is literally one for the history books - a logbook of the time when one of the most powerful people on Earth got into shouting matches with his detractors for all the world to see.
To Hassan Rouhani - 'DEMENTED WORDS OF VIOLENCE & DEATH'
The latest attack by Twitter came on Sunday night, when Trump 'screamed' at Iranian President Hassan Rouhani to refrain from threatening Washington or face "consequences the likes of which few have ever suffered before".
To Kim Jong Un - 'My Button works!'
One of Trump's most memorable Twitter comebacks came in the form of a nuclear-button-measuring contest against North Korean leader Kim Jong Un.
Trump had previously dubbed Kim a "little rocket man" in yet another Twitter rant, and threatened to rain "fire and fury like the world has never seen" upon Pyongyang.
READ MORE: Trump to Iran's Rouhani: Never threaten the US again or suffer consequences
To Jimmy Fallon - 'Be a man'
Trump's ire isn't spared for world leaders, several celebrities have also felt his Twitter wrath. He told late-night talk show host Jimmy Fallon to "be a man!" after he expressed regret for humanizing the then-presidential candidate during an 2016 interview in which Fallon ruffles Trump's trademark hairdo. "He seriously messed up my hair," claimed Trump.
To The Red Hen Restaurant - 'Badly needs a paint job'
The president took on a restaurant in Lexington, Virginia, after they refused to serve White House Press Secretary Sarah Huckabee Sanders. The scathing tweet insulted the establishment's paint job, canopies and overall "filthy" appearance.
To Theresa May - 'Don't focus on me'
After British Prime Minister Theresa May said the US President was "wrong" for retweeting islamophobic messages by the far-right group Britain First, Trump took to Twitter to tell May to mind her own business. Trump had initially tagged the wrong Theresa May of course, but deleted and reposted the comment to his intended user.
READ MORE: Macron brags to Trump he stole his 'The Art of the Deal' book techniques – report
To Justin Trudeau - 'Very dishonest and weak'
Trump publicly insulted the Canadian PM, calling him "dishonest", "weak", "meek and mild", following a G7 meeting in Quebec last month. While flying home on Air Force One Trump abruptly retracted US support for a joint statement signed by every nation at the meeting and blasted Trudeau after learning of the PM's intention to impose tariffs on the US.
To the cast of Hamilton - 'Very rude'
President Trump publicly criticized the cast of the "highly overrated" broadway musical 'Hamilton' for their treatment of the then future-Vice President Mike Pence in 2016. Trump claimed Pence was "harassed" by the cast at the theater in what should have been a "safe and special place".
To Arnold Schwarzenegger - 'Really bad job'
After the actor and former California governor quit his role as host of Trump's former reality TV show, 'The Apprentice', the president said Schwarzenegger "did a really bad job" as governor "and even worse on the Apprentice".
To Alec Baldwin - 'Terrible impersonation'
Trump lambasted the actor and his "dying mediocre career" after Baldwin expressed his 'agony' at impersonating the president on Saturday Night Live. "Alec, it was agony for those who were forced to watch," he wrote.
Like this story? Share it with a friend!
You can share this story on social media: