Macron brags to Trump he stole his 'The Art of the Deal' book techniques – report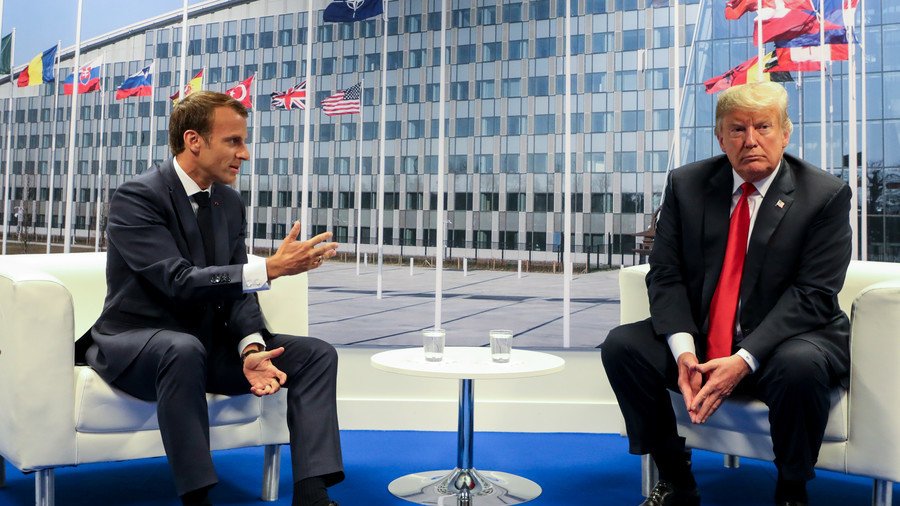 French President Emmanuel Macron has reportedly revealed to Donald Trump that he read his business-advice book 'The Art of the Deal' to steal techniques in order to gain leverage amid the growing trade war between the US and EU.
Macron bragged about acquiring tricks from his US counterpart during their tête-à-tête meeting on the sidelines of the NATO Summit in Brussels earlier in July, the Axios website reported, citing its source familiar with the talks.
READ MORE: Trump warns NATO allies US can 'do our own thing' if 2% spending goal not met – reports
When the conversation moved to the hotly-discussed trade war which has been unleashed this summer, the US leader suggested that Macron should convince the EU to negotiate with Washington. In reply, Macron expressed his unwillingness to negotiate under threat.
"I read the Art of the Deal," a smiling French leader reportedly told Trump. "I know that we need to retaliate first so we have some leverage in the negotiation." Macron's remarks come amid a full-blown trade war, which was initially unleashed by the US against China. Trump also opened trade battles with other states, including key partners.
Washington has imposed a 25 percent tariff on steel and a 10 percent tariff on aluminum imports from Canada, Mexico and the EU. America's traditional allies responded with tit-for-tat measures in June. US goods that have been impacted include Bourbon whiskey, orange juice and Harley Davidson motorcycles.
The 'Art of the Deal' – written back in 1987 – received much attention during Trump's presidential campaign. He often referred to it as one of his best accomplishments and once admitted it was actually his second-favorite book in the world, after the Bible.
Apart from the story about Trump's early years, it contains an ambitious 11-step formula for business success. Notably, one of the highly-cited lines in the book reads: "What the bulldozers and dump trucks did wasn't important, I said, so long as they did a lot of it." It refers to Trump's dispute with Holiday Inn in which the future US president wanted the hotel chain to partner with him on the construction of a casino.
Think your friends would be interested? Share this story!
You can share this story on social media: