Trump warns NATO allies US can 'do our own thing' if 2% spending goal not met – reports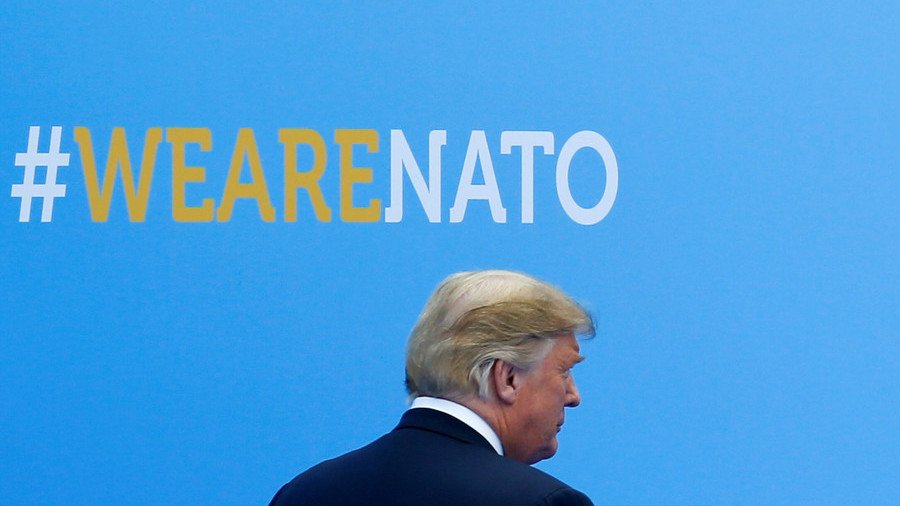 US President Donald Trump has reportedly told NATO allies that the US would do their "own thing" if members didn't up defense spending to 2% of GDP despite reaffirming Washington's commitment to the bloc.
The not-so-veiled threat was reported by NATO officials and diplomats inside an unscheduled crisis meeting of the alliance on Thursday morning, according to Politico. Further sources tweeted by The Times defense editor Deborah Hynes said Trump told allies: "2% is a joke. 4% is what people should be spending. We are being played for fools."
He reportedly continued by warning that if the alliance's wealthiest economies weren't paying 2% by January, then the United States "are going to do our own thing."
Trump later tweeted and also confirmed during a press conference in Brussels that 4% percent should indeed be the ultimate target. However, there was no official statement on America's "own thing."
At present, not even the US spends 4% of GDP on defense with only five - USA, UK, Estonia, Poland, and Greece - out of NATO's 29 members currently meeting the agreed defense spending target of 2% GDP set for countries to meet by 2024 in accordance with a 2014 agreement.
Latvia is also on course to join them later this year according to Riga's 2018 defense budget projections, with Lithuania and Romania also expected to hit that target, NATO Secretary General Jens Stoltenberg said Tuesday.
After the morning meeting, Trump changed tack - telling reporters that the United States' commitment to NATO "remains very strong" after allies made unprecedented commitments to increase defence spending.
READ MORE: From 2 to 4%: Trump turns the screws on NATO allies to up defense spending
"NATO is much stronger now than it was two days ago," Trump said, adding that this morning's unscheduled crisis meeting was "fantastic" with leaders having "a great collegial spirit".
Previously, Trump had taken aim at NATO member Germany for not doing enough to up its defense spending to 2%. He tweeted: "What good is NATO if Germany is paying Russia billions of dollars for gas and energy?"
"The U.S. is paying for Europe's protection, then loses billions on Trade. Must pay two percent of GDP IMMEDIATELY, not by 2025." Despite Trump's bellicose tweets in the run up to and during the summit, French President Emmanuel Macron called the talks "respectful," adding that France would meet its two percent spending target by 2024.
READ MORE: Trudeau zips past surprised Belgian counterpart to plant kiss on PM's partner (VIDEO)
However, Macron dismissed Trump's claims that a dramatic new spending agreement had been reached among the bloc's members, pointing instead to the two percent benchmark set in 2014.
"Everyone agreed to raise spending as they agreed in 2014, and everyone agreed to respect the commitments they made. We reaffirmed a credible budget strategy that meets our needs," Macron said. Speaking at an end of summit briefing, Stoltenberg praised the gathering, but also stopped short of saying that the bloc's members agreed to go over four percent of GDP for defense spending.
Like this story? Share it with a friend!
You can share this story on social media: