Trudeau zips past surprised Belgian counterpart to plant kiss on PM's partner (VIDEO)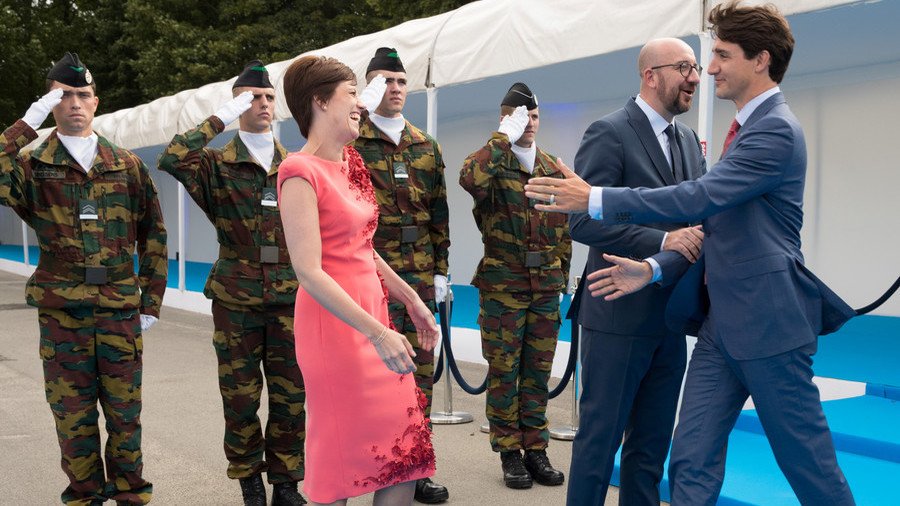 Canadian Prime Minister Justin Trudeau left his Belgian counterpart red-faced after he raced straight past his open arms to plant a smooch on the latter's partner.
Trudeau was among the world leaders attending the NATO summit in Belgium this week and the awkward moment took place as he arrived at a dinner in Brussels.
Trudeau appeared to be heading for Charles Michel with his arm outstretched to shake his hand, until he caught sight of his partner Amélie Derbaudrenghien and rushed past the Belgian leader to kiss and hold Derbaudrenghien, a beaming smile on his face.
Michel was left to laugh awkwardly in front of the cameras, and appeared to put his hand in between his partner and the Canadian leader a few seconds into their cozy greeting.
A Canadian journalist kindly made a gif of the moment, which was sparked a flood of reaction on social media.
Well that's embarrassing. Right for they lady & totally ignores the guy who runs the country. Lol.

— Chris Minister of Irregular & General Smartarsery (@Lumberist) July 12, 2018
Come on, he's clearly having a joke. Have a sense of humour.

— Joseph McDermott (@joeymacjoeface) July 12, 2018
Rude to slight the leader of the host country in this way.

— Jamie Mask (@jmask) July 12, 2018
He went straight for the woman. Hands all over her. #GroperGate

— KDub (@WEAGLEMAN) July 11, 2018
Nice to see a bit of fun. Looks like the PM of Belgium has a good sense of humour.

— Terry (@aweebitdaft) July 12, 2018
Like this story? Share it with a friend!
You can share this story on social media: