Belgium closes airspace after flight data processing system failure
Published time: 19 Jul, 2018 15:32
Edited time: 19 Jul, 2018 16:42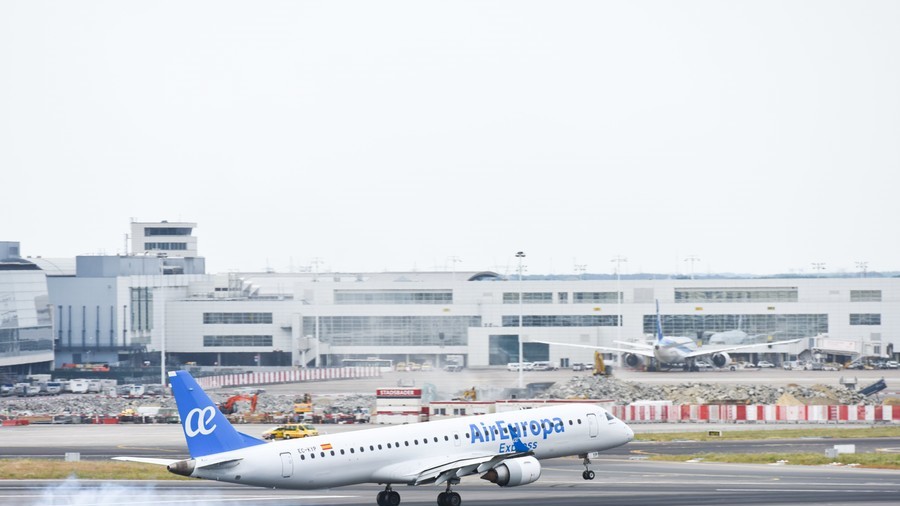 Air traffic over Belgium has been temporarily suspended after flight data processing system failed, according to the country's air traffic controller, Belgocontrol.
The flight data processing system of the Belgian traffic controller has at some point failed to trace some aircraft's location over Belgium's territory, prompting the Belgocontrol to take an "ultimate safety measure," the local De Morgen daily reported.
Due to an exceptional situation air traffic is temporarily suspended. Belgocontrol is looking in to it. We are closely monitoring the situation. We will keep you informed. https://t.co/mOB9nE2edN

— Brussels Airport (@BrusselsAirport) July 19, 2018
The air controller was also unable to determine the destination, altitude and speed of the planes that were in the air, it added.
"The airspace was closed for security reasons, in what we refer to as a 'clear the sky' (procedure)," Belgocontrol's spokesman Alain Kniebs told AFP, calling the incident "very exceptional."
The air traffic controller was unable to say how many flights were affected by the issue.
Six Belgian airports have been affected by the shutdown, according to AFP.
The Belgian airspace was closed shortly after 16:00 (local time) (14:00 GMT). The measure is expected to remain in effect at least until 17:00 GMT, according to Reuters.
All flights en route to Belgian airports were rerouted while those scheduled to depart from Belgium were kept on the ground.
Problem with the flight data processing system in Belgium's lower airspace (below 24,500 ft/7,500 metres): the regulation has been extended to 17.00UTC (19.00 local time). Currently very few flights in/out of Belgian airports. https://t.co/AlePJoj0Qv

— EUROCONTROL (@eurocontrol) July 19, 2018
The jets flying at an altitude higher than 8,000 meters are controlled by European Organization for the Safety of Air Navigation, commonly known as Eurocontrol, and are thus not affected by the problems, which the Belgian traffic controller experiences. "That means that any flight linking Denmark to Spain, for instance, will not be affected because it is flying quite high," Kniebs said.
Another Belgocontrol spokesperson, Dominique Dehaene, told the media that there was "no threat of any kind."
Around 5:30pm local time (15:30 GMT), Belgocontrol tweeted that the "problem with the flight data has been resolved," adding that the air space was "fully open" again. However, according to local media, it would still take the Belgian airports from two to three hours to return to normal.
The total number of passengers affected by the incident remains unknown. However, at Charleroi Airport, three Ryanair flights with 189 passengers each were canceled while another flight heading to the airport was diverted and eight others were delayed, the local RTBF reported.
Think your friends would be interested? Share this story!