Passenger jets collide on ground at S. Korean airport (PHOTOS)
Published time: 26 Jun, 2018 14:28
Edited time: 27 Jun, 2018 07:39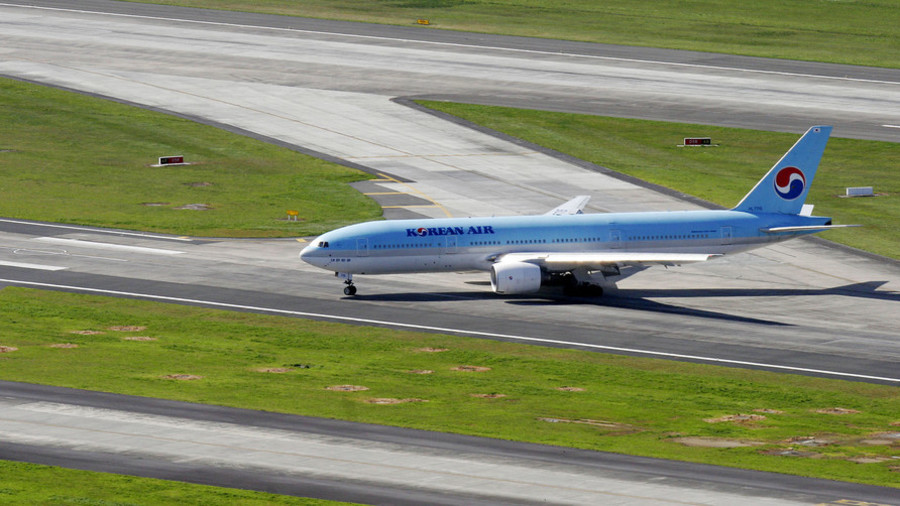 Boeing 777 and Airbus A330 passenger jets were involved in a ground collision amid heavy rain at Gimpo Airport in the South Korean capital, Seoul early on Tuesday.
The incident happened when the aircraft of Korean Air and Asiana Airlines were towed outside the airport's international terminal. There were no injuries as a result of the collision, the authorities said.
The right winglet Asiana Airbus A330-300 (HL8286) collides with the tail of a Korean Air B777-200ER (HL7764) whilst taxiing at Seoul-Gimpo Airport (GMP, RKSS) resulting in substantial damage. No one aboard both jets was hurt. https://t.co/pbTfoFcmsBpic.twitter.com/ELByH21gV5

— JACDEC (@JacdecNew) June 26, 2018
The Boeing 777 was waiting to taxi when "the wing of the Asiana aircraft clipped the tail of the Korean Air's aircraft," an airport official told YTN.
The Korean Air flight was scheduled to travel from Seoul to Osaka, Japan with 138 passengers on board, while the Asiana plane was bound for Beijing.
However, Yonhap news agency reported that there were no passengers, but only a few mechanics aboard the plane.
READ MORE: Turkish airlines plane tail smashed in dramatic collision at Istanbul Intl' Airport (VIDEO)
The collision led to a four-hour delay for both jets, with some other flights at Gimpo also being rescheduled.
Think your friends would be interested? Share this story!