Putin & Trump shake hands ahead of face-to-face summit in Helsinki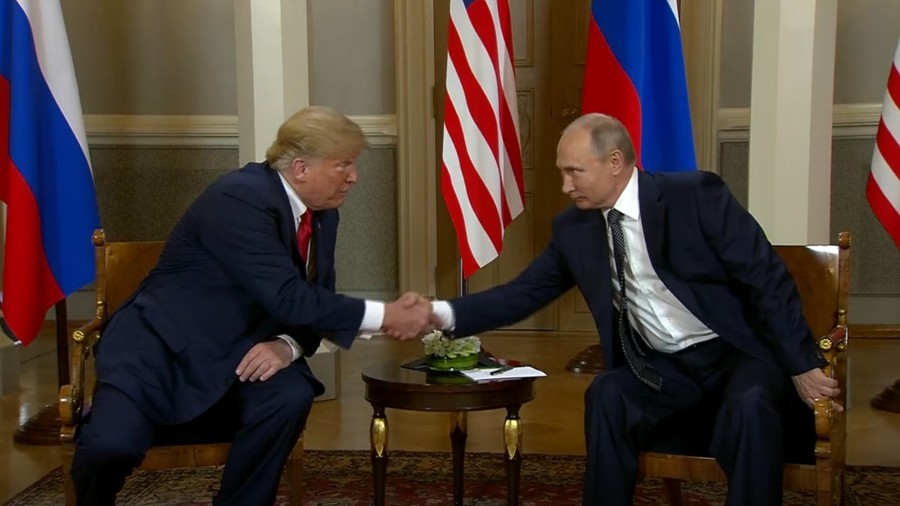 The presidents of Russia and the US have begun their meeting in Finland with a handshake and a pledge to discuss frankly all the differences between their countries - and ways to improve a sour relationship.
Vladimir Putin of Russia and Donald Trump of the US are holding their first dedicated meeting in the Finnish capital since the latter took office following the 2016 US presidential election.The relationship between the two countries is arguably at its lowest point since the end of the Cold War. Addressing journalists ahead of a one-on-one meeting with Trump, Putin said the Monday summit was a continuation of previous contacts between the two.
"We had contacts over the previous months, talked on the phone and met on the sidelines of various international events," Putin said. "The time has certainly come for a comprehensive discussion of our bilateral relations and some of the sour points that [have built-up.]"
Trump congratulated Putin on Russia's hosting of one of the best-ever FIFA World Cups over the past month and said the two leaders have matters of global importance to discuss.
READ MORE: Seagulls & window warnings: 4 ways Putin-Trump summit will affect Finns
"We have discussions on everything from trade to military to missiles to nuclear to China – we will be talking a little bit about China and our mutual friend President Xi [Jinping]," Trump said.
"I think the world wants to see us get along. We are the two great nuclear powers, we have 90 percent of the nuclear, and that's not a good thing, that's a bad thing," he added. "I think we can hopefully do something about it."
Trump reiterated that he thinks Russia and the US can enjoy a much better relationship than they now have.
If you like this story, share it with a friend!