33 hospitalized after Ryanair flight plummets mid-air & makes emergency landing in Frankfurt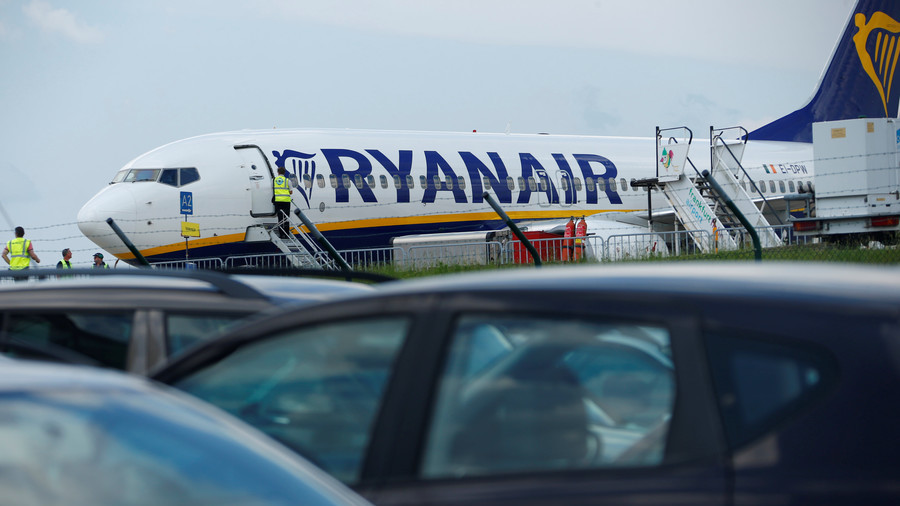 Dozens of passengers were taken to hospitals after a Croatia-bound Ryanair flight had suddenly made an emergency descent, plummeting from 11,000m before finally landing in Frankfurt.
A Ryanair flight bound for Croatian resort town of Zadar had made an emergency landing at Frankfurt-Hahn airport after rapidly descending from 36,000ft (11,000m), German media reported citing police.
33 passengers were taken to the hospital after they "complained about headache and earache and suffered from nausea,"Spiegel magazine quoted a spokesman for the Federal Police early on Saturday. The authorities believe there might have been a drop in pressure on board the Ryanair Boeing 737, which carried 189 passengers.
READ MORE: Ryanair meltdown: Europe's biggest airline in crisis as 2,000 flights canceled
At Frankfurt airport, paramedics took care of the passengers, with city authorities dispatching ambulances to ferry the injured to nearby hospitals. Uninjured passengers spent the night at the airport. "A replacement aircraft will probably fly people to their destination on Saturday," the police spokesman said.
It is unclear what exactly happened on board as Ryanair and Frankfurt Hahn Airport did not comment on the incident.
A Facebook user named Miomir Todorovic uploaded a photo showing ejected oxygen masks inside the cabin. "We heard sudden bang (not very loud) and air became cold. Masks dropped immediately and we heard announcement about emergency descent," he wrote, responding to a question by a German reporter.
"There was some panic at plane, but in the end everyone remained calm. To be honest, Ryanair pilots did excellent job, but it would be much appreciated if they announced that this was a standard procedure in this situations," the man added.
Later in the day, Ryanair said in a statement to RT the flight diverted to Frankfurt "due to an inflight depressurisation," and descent was carried out "in line with standard procedure." The plane landed normally and docked at Frankfurt airport, where passengers were given refreshment vouchers and hotel accommodation, the low-cost airline has said. "Customers will board a replacement aircraft which will depart to Zadar this morning and Ryanair sincerely apologized for any inconvenience," it added.
Earlier this week an Air China plane suddenly dropped 25,000ft (7,600 meters) in 10 minutes mid-flight, also causing oxygen masks to go off from the cabin ceiling. Local aviation authorities said one of the pilots was vaping inside the flight deck and mishandled the ventilation system, South China Morning Post reported.
Think your friends would be interested? Share this story!