Ryanair meltdown: Europe's biggest airline in crisis as 2,000 flights canceled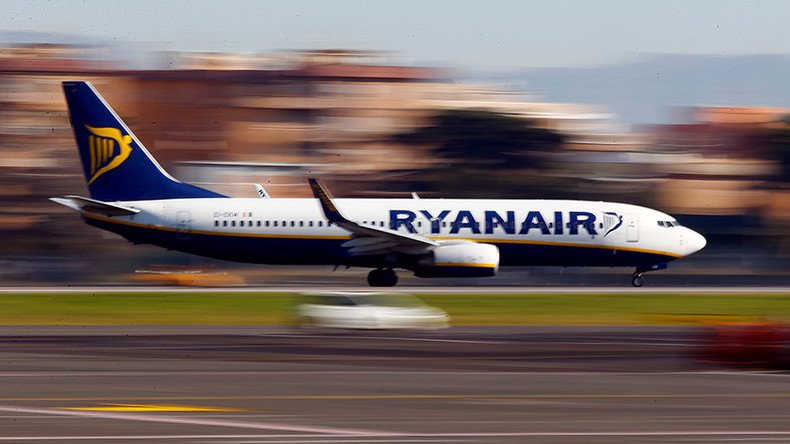 Ryanair passengers have described their "miserable" experiences at the hands of the budget airline after a pilot shortage forced the company to cancel flights, leaving passengers "stranded."
Hundreds of holidaymakers have been forced to pay for hotels, flight changes and living costs after being left without a journey home – as well as shelling out £25 (US$34) per call to the helpline.
However, Britons are convinced they are not being told the whole truth about the scheduling error, which may snowball into hundreds more journeys being axed.
A reported pilot shortage has been blamed for the airline canceling more than 2,000 trips across Europe between September 16 and the end of October.
According to insiders at the airline, staff members were asked not to take their time off during the peak travel season, mainly around the school holidays.
However, apparent mismanagement of the booking system resulted in pilots taking the same leave, leaving planes unmanned.
However, one pilot said this excuse only scratches the surface.
"There's an underlying problem at Ryanair, which is quite simply that the company cannot replace pilots as fast as they quit," former Ryanair Captain James Atkinson told the Guardian.
"Meanwhile, the fatigue of flying for Ryanair is quite real. When I was there, I was regularly sent out of my base to fly on my days off, and without pay – to distant Ryanair bases that had a staffing shortage.
"I would take connecting flights and sometimes overnight layovers to arrive (hotel paid by me, and not reimbursed).
"Once there, I would report for duty, fly a heavy flight schedule for five consecutive days, then face the arduous journey back to my home base.
"It was a soul-destroying experience."
An emergency letter was sent out to staff offering €12,000 to those willing to fly planes and cancel their month-long leave.
However, this has led to concerns the company could break the Flight Time Limitations (FTLs) rule over how many hours a pilot can fly – 100 hours in any 28 days.
Meanwhile, passengers have been stranded across Europe, some having to pay up to £1,000 for flights and hotel rooms.
Customers have been told they will be reimbursed – only after they have filled out the complaints procedure and compensation forms, meaning passengers could be left waiting days, or even weeks, for a refund.
"So Ryanair cancelled my flight," said Charis Rooda, flying from Porto to Barcelona.
"Booking another single flight is going to cost me 160 euros extra."
The lack of information has left passengers "livid" as they are forced to spend hours trying to figure out whether they will be compensated for their bookings whilst abroad, including hotels and events, or whether they should find another airline.
People hoping to contact Ryanair, after having their holiday cancelled via text, have said the task is "impossible."
"Live chat down. Call center shut. No email contact. It's going well!" Jez Myers tweeted.
Jake Donovan, 27, from Plymouth, got stuck in Alicante, Spain.
He flew to Bristol via Ireland with Aer Lingus.
"I am down about £400. It's a bloody shambles," he told the Sun.
Pamela Watson shelled out twice the price of her canceled flights to take a British Airways trip to a family funeral.
Clare Trickett said she was "stranded" in Cairo with her daughter who is 6 months pregnant.
Economist David MacWilliams was one of many who suggested on Twitter there may be deeper problems within the company.
"Wondering whether this Ryanair mess is just a legit' one off glitch or the sign that management is just holding together by a thread?" he said.
Consumer rights group Which? said it is "outrageous" that customers are having to pay again for extras like baggage and seat selection when re-booking, meaning they have forked out twice.
"It's outrageous that Ryanair passengers who have had already to huge inconvenience are essentially being double charged for booking seating and luggage," Managing Director Alex Neill told the Star.
"The airline must quickly ensure affected passengers are re-booking, fully refunded and automatically compensated without having to jump through hoops."
You can share this story on social media: