Trash wars: US drowning in its own waste, blaming China for rejecting 'recycled commodities'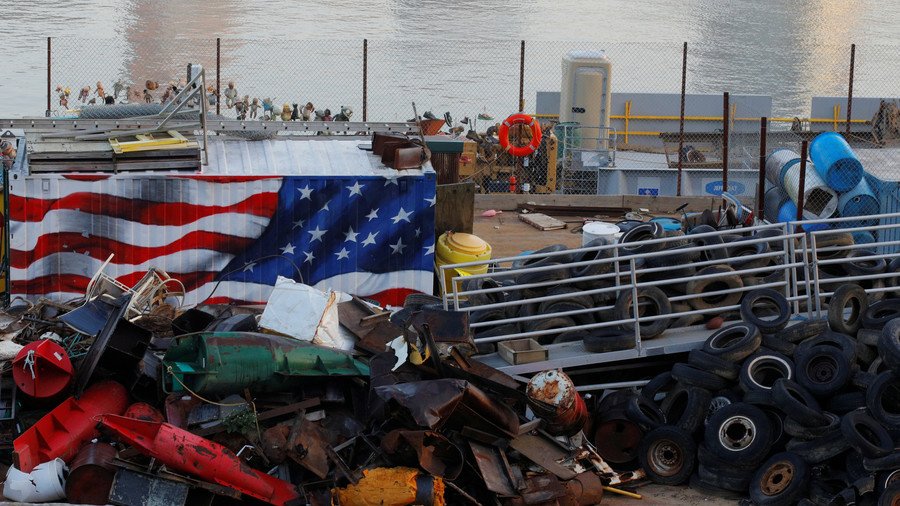 Hundreds of tons of waste that Americans believed they were recycling is now piling up in processing plants or being dumped into landfills, as China's decision to stop buying garbage for environmental reasons begins to bite.
Beijing's 2017 decision to ban imports of 24 varieties of trash brought to light the real destination of most Western recyclables: They were shipped to Chinese factories, where they would be cleaned up and repurposed into raw materials. China bought half of all US scrap last year, and has recycled 72 percent of all the world's plastic since 1992, according to a study in the journal Science Advances.
READ MORE: China urges domestic firms to boost non-American imports as trade war with US escalates
All of that abruptly came to a halt when China decided to stop almost all imports of paper and plastic waste, and have set a 5 percent ceiling on contaminants in cardboard and metal waste, which most US trash processing plants have been unable to meet.
"There is no single and, frankly, probably not even a group of countries, that can take in the volume that China used to take," Adina Renee Adler, of the Institute of Scrap Recycling Industries in Washington, DC told AFP. "The biggest issue here is that China just gave very little time for the industry to transition."
Garbage previously shipped to China is now piling up in places like the processing plant in Elkridge, Maryland, where tons of trash arrive every day from the US capital. The District is already paying $75-a-ton for recycling, and only $46-per-ton for garbage that is being burned to generate electricity.
"There was a time a few years ago when it was cheaper to recycle. It's just not the case anymore," said Christopher Shorter, director of public works for Washington, DC. The city is reportedly thinking of charging residents for garbage by weight.
Bill Caesar, head of the Houston, Texas-based waste company WCA, has warned that Americans are "going to have to start paying more for the privilege of recycling."
The US has very little domestic capability to process and recycle waste, having become used to literally shipping it overseas for decades. One conservative columnist pointed to the pileup as proof that recycling has been a scam all along.
"The dirty secret of recycling is that it depended on the willingness of Third World countries to greenwash our trash so that progressives could pretend that their moral garbage was saving the planet," Daniel Greenfield wrote in Front Page magazine on Thursday.
Complicating matters further is the ongoing trade war between Washington and Beijing. The Trump administration has imposed tariffs on a number of Chinese imports, with China responding in kind.
In March, the US delegation to the World Trade Organization demanded that Beijing continue buying up US waste.
"China's import restrictions on recycled commodities have caused a fundamental disruption in global supply chains for scrap materials, directing them away from productive reuse and toward disposal," a US spokesperson pointed out at the WTO session in Geneva, demanding that "China immediately halt implementation and revise these measures in a manner consistent with existing international standards for trade in scrap materials."
Beijing responded by announcing it would stop buying 32 additional varieties of waste.
Like this story? Share it with a friend!
You can share this story on social media: