'Demolish Taj Mahal or restore it': Top Indian court issues dire warning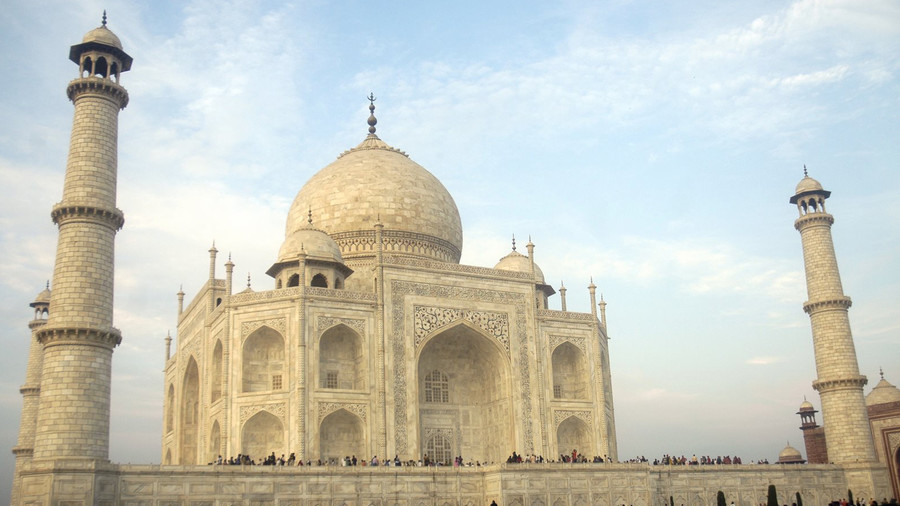 India's most famous landmark is being threatened with demolition and shut down if the government continues to fail to address its worrying changing color, the country's top court has warned.
The Supreme Court slammed both the federal and Uttar Pradesh state governments on Wednesday for failing to tackle the 17th century monument's deterioration, the Times of India reports.
READ MORE: India's economy overtakes France to become sixth largest in the world
The largely white marble structure started changing into a yellow color decades ago, and has since been turning brown and green.
"You can shut down the Taj. You can demolish it if you like and you can also do away with it if you have already decided," Justices Madan B Lokur and Deepak Gupta said. "Uttar Pradesh (government) is not bothered. No action plan or vision document has come yet. Either you demolish it or you restore it."
Demolish??🤤🤤😢😢it's something every foreigner comes to see and is the most recognizable picture of India. I know some people would like to see it gone but it's part of our beautiful heritage and must be preserved.

— sanjana singh (@princesssiggy) July 11, 2018
One of the lawyers told the judges action plans are being prepared in a 'vision document', but the judges questioned how urgently the issue is really being treated by authorities.
In May, the Supreme Court ordered the government to seek foreign assistance to fix the UNESCO World Heritage site's changing color, which is thought to be the result of pollution, construction work, and insects which excrete on the walls. The insects are said to be attracted to the sewage in the nearby Yamuna River and their waste leaves a greenish stain on the marble.
This beautiful building cannot be destroyed!!! It is the World's most Romantic location.

— Debra (Fred's Daughter) (@Debradoodoo) July 11, 2018
Mr. Desai, there is no need to be sentimental about a monument. Shahjahan didn't made Taj for us to see. It was for his own satisfaction.Nothing stays ever.

— सिन्धु (@bvsindhu) July 11, 2018
The government has shut down many factories near the Taj Mahal in the city of Agra, and the palace has been treated with dirt-absorbing mud packs several times over the decade in a bid to save its iconic white surface. The most recent effort was in January.
The Taj Mahal was built by Mughal emperor Shah Jahan as a mausoleum for his late wife Mumtaz Mahal. India's biggest tourist attraction, it is one of the New Seven Wonders of the World and draws some 8 million visitors every year.
I am not a BJP fan but just curious what were the previous govts doing? The colour of Taj Mahal has been changing for almost a decade now.

— IK (@indu_k) July 11, 2018
If you like this story, share it with a friend!
You can share this story on social media: