Deep-sea monster? Fishermen catch 16ft long fish off Chile coast (VIDEO, PHOTO)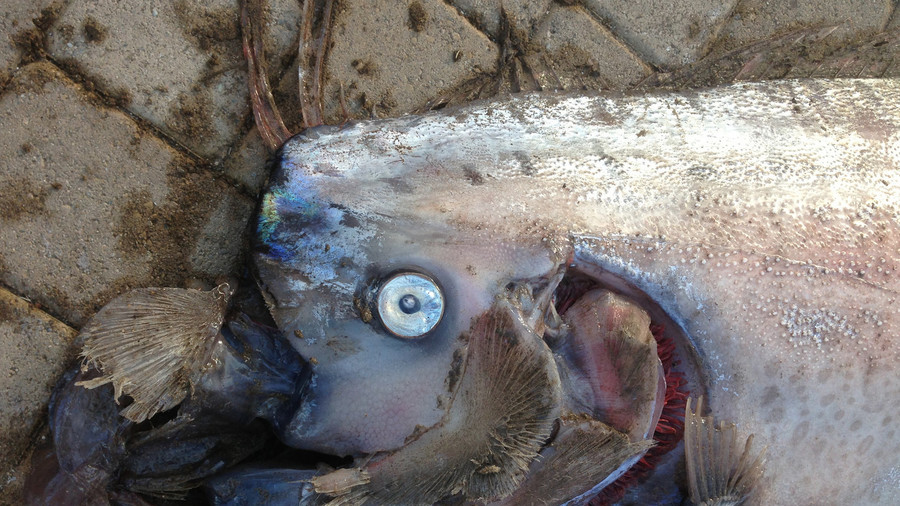 Fishermen seeking a species of tuna off the coast of Chile got a lot more than they bargained for when a giant 16ft long fish fell into their nets during a routine expedition.
The elongated deep-sea fish, identified as the rare giant oarfish, stunned fishermen by coming into their reach in shallow waters near the resort of Iquique in northern Chile.
Footage from the incident shows the monstrous five-meter long fish sprawled across the deck as curious fishermen surround it. In another image, an angler can be seen lying next to the dead creature.
The fish weighed somewhere between a whopping 265 to 331lb (120-150kg) according to Cavancha Caleta fishery coordinator, Rodrigo Oliva. Given its rarity, the specimen was handed over to marine researcher Miguel Araya from the Arturo Prat University for further analysis, reported La Estrella de Iquique.
"The oarfish found is also called king of the herrings, and its scientific name is Regalecus Glesne. The species found corresponds to a female, and had krill remains in his stomach," Araya said.
There are no previous records of appearances of this species in the region. Generally the giant oarfish, which is the world's longest bony fish, is found in shallow waters if it is sick or dying but according to Araya's analysis this specimen did not show any injury.
READ MORE: 'Shy but intelligent': Fish with 'human teeth' caught in South Carolina (PHOTO)
Following a number of incidents where the rare fish washed up on shore just days before an earthquake researchers suggested that this unusual animal behavior could indicate an impending seismic event.
The mysterious creature is also believed to be behind sightings of mythical 'sea serpents,' building up its reputation as a deep sea monster – despite its modest diet of plankton and small crustaceans.
If you like this story, share it with a friend!