Iran's Rouhani disappointed by what Europe offers to offset US exit from nuclear deal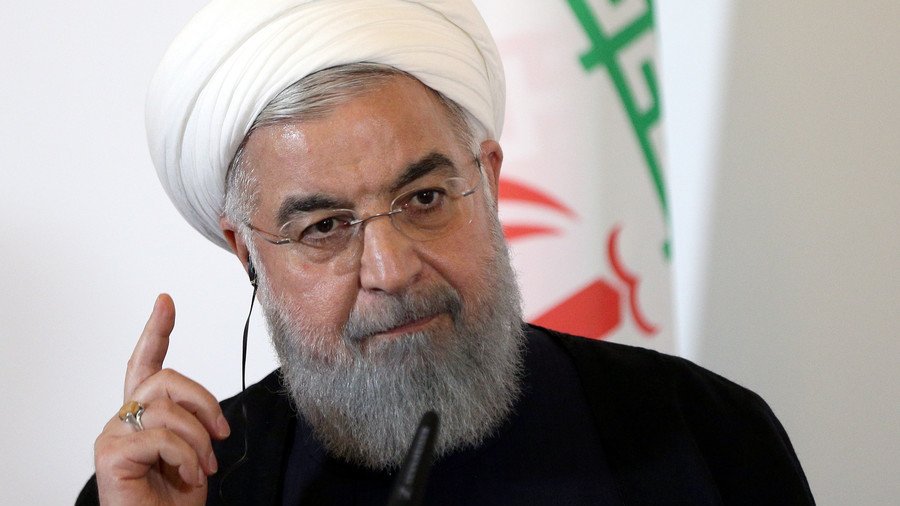 Iranian President Hassan Rouhani has warned his French and German counterparts that they must try harder to meet Iran's demands for the nuclear deal to stay. The package is set to be discussed in Vienna on Friday.
Rouhani raised concerns over what Tehran sees as Europe's lackluster approach to saving the landmark agreement during phone calls with German Chancellor Angela Merkel and French President Emmanuel Macron on Thursday.
What Europe has so far offered Iran to make up for the economic damage inflicted on the country by the US withdrawal from the deal in May is insufficient, Rouhani told Merkel, calling the European proposal "disappointing" and lacking any specifics.
"Unfortunately, the package lacked a clear and practical plan or certain methods for continuation of cooperation. It set forth a series of general obligations just like those contained in previous EU statements," Rouhani was cited by IRNA news agency as saying.
The Iranian leader has noted that the 2015 accord, which severely limited Iran's uranium enrichment program in return for sanction relief, should remain a two-way street, demanding that Europe come up with "a clear, straightforward and promising message for keeping the JCPOA [Joint Comprehensive Plan of Action]."
He echoed the same sentiment in his call to Macron. Lamenting Europe's failure to comply with Iran's demands, Rouhani said he expects European nations to offer "a clear operational plan with timetable" to offset Iran's losses in the wake of the US walkout.
While voicing his frustration with the Europeans, Rouhani nevertheless praised France for its "positive" efforts aimed at salvaging the deal, whose fate has been hanging in the balance in the months following US President Donald Trump's decision to leave the accord after repeated attempts by allies, including Macron, to change his mind, ended in vain.
In terms of the deal's future, much will be at stake at the Friday meeting in Vienna, which will see foreign ministers of Iran, France, Britain, Russia, Germany and China trying to find a way out of the deadlock and keep the deal afloat.
Earlier this week, Iran hinted that if the remaining parties to the deal want their companies, which have invested billions of dollars in the Iranian economy after the lifting of sanctions, to keep working in the country, they must buy Iranian crude.
"We want to inform our target markets and countries that buy oil from us that we'll purchase goods from them only if they purchase our oil," representative of Iran's Energy Committee Asadollah Karekhani said Wednesday.
It comes as Washington is pushing allies to reduce oil imports from Iran to zero by November 4, threatening those who plan to defy the ultimatum with secondary sanctions. The demand also reportedly refers to those US allies who depend on Iranian oil exports and will be struggling to phase out their supplies outright.
The immense pressure to which Washington has been subjecting its allies has borne first fruit after Japanese Prime Minister Shinzo Abe reportedly cancelled his trip to Iran that was planned for later this month. The visit would have been the first one by the Japanese leader to the Islamic Republic in 40 years.
European countries, as well as Russia and China, have all reiterated their commitment to the nuclear deal, condemning the unilateral withdrawal by the US and vowing to prevent the agreement from crumbling.
In its turn, Iran has threatened to block the Strait of Hormuz, the world's most important chokepoint for oil shipments, if the US follows through on its threat to smother Iran's oil trade.
You can share this story on social media: