'Where does Lenin sleep?' Moscow reveals some bizarre questions of World Cup fans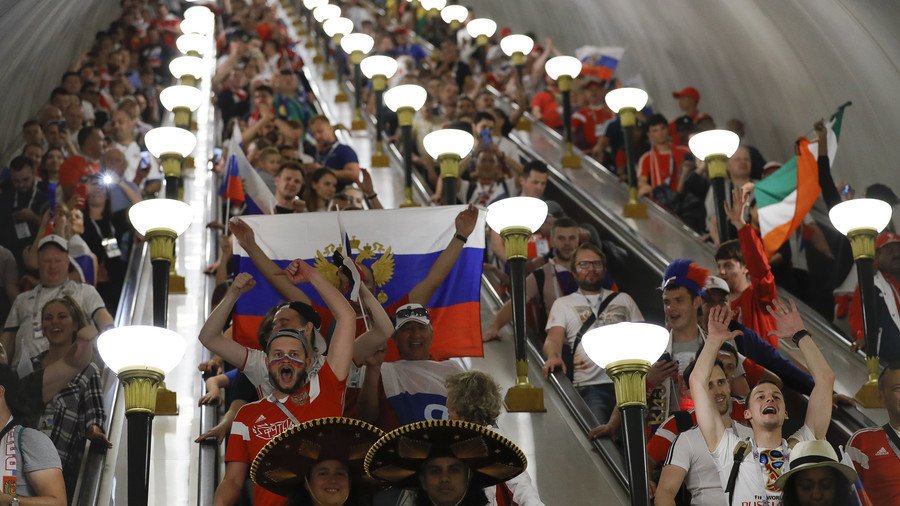 With thousands of foreign guests who came all the way to Moscow to cheer their favorite team, the Moscow Metro made a compilation of the most curious things foreigners asked its employees.
It appears that more than a hundred of volunteers working at Moscow underground during the World Cup are being daily bombarded with all sorts of questions. And, as the city authorities revealed, not all of them are transport-related.
Multi-lingual volunteers, offering assistance at the "Live Communication" booths at more
than 80 metro stations, say questions vary from standard direction inquiries, like "How can I reach the Red Square?" to the less likely and slightly more bizarre questions, such as "Where does Lenin sleep?" The latter surely referred to those asking for directions to get to the landmark mausoleum.
According to the Moscow Metro authorities, some of the most popular questions were, however, the 'how to?' ones. Most foreigners tried to reach the city centre, asking "How can I reach the Red Square?" Curiously enough, foreign commuters often refer to the Revolution Square as the 'station with the dogs', said Maxim Lixutov, Deputy Mayor of Moscow and Head of the Department for Transport and Development of Road Infrastructure.
Having already answered questions of more than 270 thousand guests since June 12, volunteers say that their underground shifts are being occasionally spiced up by marriage proposals coming from infatuated strangers. Foreign commuters are, however, not solely infatuated by the pretty volunteers, it seems.
READ MORE: 'I'm sorry my wife, I stay here, I love Russia!' Ecstatic Belgian fan after late victory
Some matches were probably so gripping that passionate football fans wondered if they could "stay overnight" if they purchased an unlimited daily ticket.
While official data about the overall number of visitors is yet to be published, Russian Foreign Ministry said that as for June 15 their approximate number was about 2 million people, making one of the busiest underground systems in the world particularly crowded.
Think your friends would be interested? Share this story!
You can share this story on social media: