'Don't serve Wiener Schnitzel only': Juncker jokingly advises Austrian chancellor on EU presidency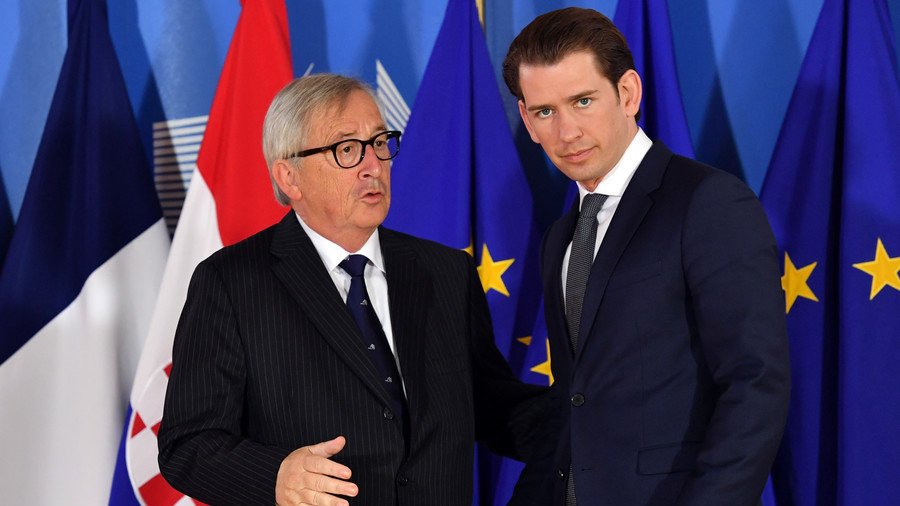 European Commission chief Jean Claude Juncker has issued guidance to Austrian Chancellor Sebastian Kurz, whose country assumed the EU presidency on Tuesday, comparing the search for political solutions to the art of cooking.
"One should serve [its guests] with positive solutions [reached] through negotiating charm," Juncker said. Praising the negotiating skills of Austria's chancellor, Juncker reminded him that "not only Wiener Schnitzel should be served on the plate," hinting that a certain creativity is needed to deal with international challenges.
Adding some spice to the remark, Juncker said: "I've been to Mongolia and Ivory Coast – Wiener Schnitzel is everywhere, but it's not the only thing found on our plates."
In a subsequent comment for Austria's Oe24 outlet, he praised Kurz, saying the Chancellor "can't be compared to anyone." Elaborating on his the culinary-themed advice, the outspoken EU official again said: "He knows not only Wiener Schnitzel is lying on the consensus plate."
Immigration, inner security and stability in the European vicinity seem to top the list of priorities for Austria's chairmanship of the 28-strong bloc. Austria sees itself as a neutral broker given its geographical location and traditional role as "bridge builder."
"Europe is clearly our future, but we find ourselves in times of radical change. What we have to defend is the European way of life, namely rule of law, democracy, freedom and basic values," Kurz said on Twitter.
Kurz, 31, is leader of the Austrian People's Party (OVP) and became Chancellor after his center-right group secured around 31 percent of the vote during the general election last year. The party supports tightening Austria's borders and toughening up on immigration.
Kurz became the target of online outrage after his government recently moved to close seven mosques and expel up to 60 foreign-funded imams as part of their campaign against radicalization and hate preaching. The Chancellor's office said he received "many" death threats, particularly on Facebook and Instagram, as well as in some "instant messaging services."
READ MORE: Austria's Kurz receives death threats after shutting down mosques
During the Skripal saga, when a number of Western – and EU states - played the British blame game by expelling dozens of Russian diplomats, Austria opted not to follow suit. Vienna stressed at the time that it is a "bridge builder between East and West," urging parties to keep communication channels open with Moscow.
You can share this story on social media: