Trump considers pulling out of Germany amid EU bashing over meager NATO spending – report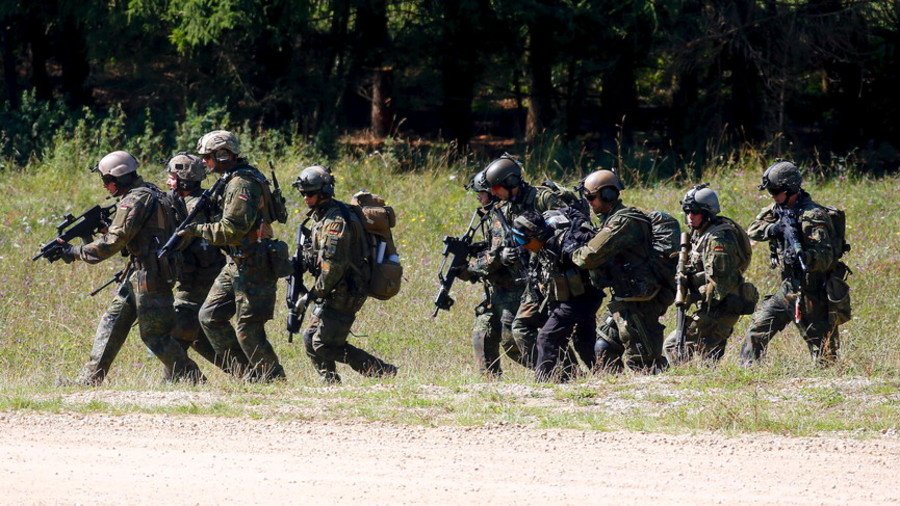 Donald Trump is considering scaling down or withdrawing the US military from Germany, according to a report ahead of the NATO leaders' meeting. The US president has blasted allies for chipping in too little to the bloc's budget.
The decision to explore the option of pulling 35,000 US troops out of Germany came after Trump floated the idea during a meeting with White House and military aides, the Washington Post reported on Friday, citing government officials who spoke on condition of anonymity. The president was reportedly frustrated by the fact that Germany and other NATO allies don't pay their "fair share" into the budget of the alliance.
READ MORE: 'Time to go': Veteran US ambassador to Estonia resigns over Trump's EU & NATO rants
Pentagon spokesman Eric Pahon told the Post that the military "regularly reviews force posture and performs cost-benefit analyses," adding that the US remains "fully committed" to Germany and NATO.
Trump had stepped up his criticism of NATO ahead of the organization's annual meeting scheduled for 11-12 July in Brussels. "Germany has to spend more money. Spain, France. It's not fair what they've done to the United States," he told reporters on Friday aboard Air Force One. Earlier, he lashed out at Berlin on Twitter, saying the American army is defending Europe "at great financial loss." Trump's harsh stance had alerted European officials, with some speculating whether it might be just a negotiation tactic ahead of the key talks in Brussels, the Post writes.
....Germany pays 1% (slowly) of GDP towards NATO, while we pay 4% of a MUCH larger GDP. Does anybody believe that makes sense? We protect Europe (which is good) at great financial loss, and then get unfairly clobbered on Trade. Change is coming!

— Donald J. Trump (@realDonaldTrump) 11 июня 2018 г.
The US is already at loggerheads with Europe over tariffs that Washington placed on aluminum and steel. According to a recent report by Axios, Trump compared the alliance to his favorite 'punching bag,' free-trade deals, at a highly contentious G7 summit two months ago. "NATO is as bad as NAFTA. It's much too costly for the US," the president reportedly said during a private meeting.
Back in 2014, NATO members each agreed to spend two percent of their GDP on defense. The move was a response to the Ukrainian crisis and the bloc's desire to 'deter' Russia. Currently, only five nations fulfill the 'two-percent goal', including the US. NATO Secretary-General Jens Stoltenberg said in February that at least 15 of the 29 allies are expected to reach the two-percent bar by 2024.
Think your friends would be interested? Share this story!
You can share this story on social media: