Russophobia acceptable form of racism – Experts to RT after journos kicked from Ukraine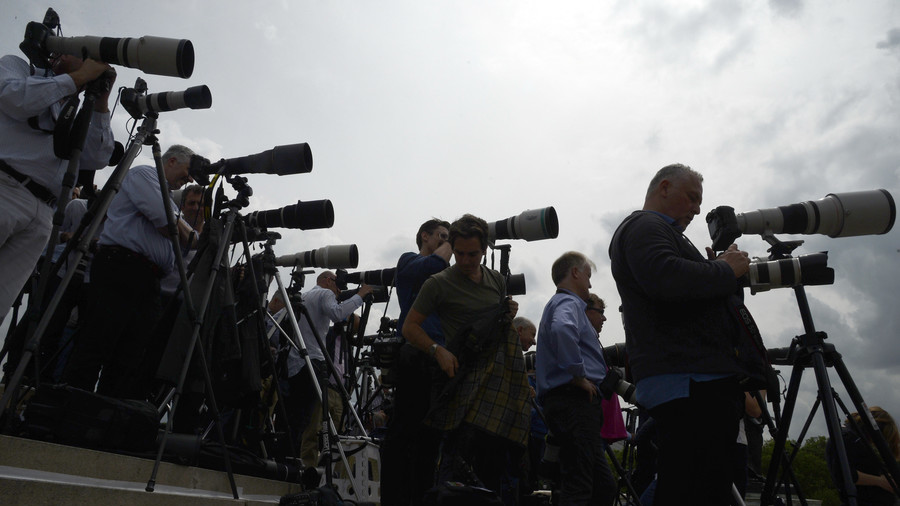 Ukraine is unlikely to see criticism from the West, where "Russophobia has become an acceptable form of racism", experts told RT after Kiev stopped journalists in Russian media from attending OSCE press freedoms conference.
Ukrainian authorities expelled RT's Middle East Bureau correspondent Paula Slier and Rossiya 24 news channel's Evgeny Primakov, both of whom had travelled to Kiev to attend a conference aimed at strengthening media freedoms and free speech protections. The conference was hosted by the Organization for Security and Cooperation in Europe (OSCE), of which Russia is a member.
Slier, a native of South Africa who has reported from a number hot spots around the globe, was not told why she had been expelled from the country – only that her five year ban from entering the country had been issued by "an authorized state body of Ukraine."
Harlem Desir, the OSCE representative on freedom of the media, said that he "regretted" that Slier and Primakov were prevented from attending the event, adding that OSCE member states should "facilitate free travel for journalists across the region."
The International Federation of Journalists (IFJ) was less diplomatic in its criticism. "Ukrainian authorities must urgently explain this decision and stop pressuring journalists. This is totally contrary to the proper functioning of a democracy," IFJ Secretary General Anthony Bellanger told RT.
This opinion was echoed by Human Rights Watch with its Deputy Director for Europe and Central Asia Rachel Denber calling Ukraine's actions "wrong, counterproductive, and contrary to Ukraine's obligations to respect media freedoms."
"The government should stop doing this, and its international partners should insist that steps like these are steps backwards from Ukraine's democratic development," she told RT.
Even some outspoken Kremlin critics showed concern for Kiev's actions. Journalist Alexey Kovalev, editor of Codaru.com, said that the Ukrainian government had hit a new low, and that its use of Russia as a bogeyman to "justify anything" was "coming to an end."


Дорогие украинские власти, у аргумента «мы воюем с проклятыми москалями» для оправдания чего угодно есть срок годности. И он стремительно подходит к концу. Задерживать и депортировать журналистов по пути на конференцию ОБСЕ по свободе прессы (!) — новое днище пробито, молодцы!

— Alexey Kovalev (@Alexey__Kovalev) June 26, 2018
But as far as international organizations are concerned – unfortunately there aren't many more statements of condemnation to be found.
"No one is going to shed a tear in the West in this current political environment for any Russian journalists because they're deemed as sort of illegitimate," Patrick Henningsen, editor-in-chief of 21 Century Wire, told RT. "I don't see any calls of indignation about what has happened here, I don't expect any. And I think even from some NGOs, some have become very politicized – including Reporters Without Borders."
Dr. Rainer Rothfuss, a geopolitical analyst and consultant, said that he hoped groups like Reporters Without Borders would call out Kiev's actions as unacceptable, but had no expectations that "the United States or any western European government will harshly criticize the Ukrainian government."
Indeed, the deafening silence from Western governments suggests that "Russophobia is the acceptable form of racism in the west these days," journalist John Wight told RT. He said Kiev's actions would be impossible in a "functioning democracy" and provided "more evidence of the reality when it comes to what western foreign policy has given birth to in Kiev."
Former Labour and Respect MP George Galloway agreed that Russophobia had been normalized in the west, noting that "because most journalists in the world are hypocrites, they're against journalists being banned except when they're Russian journalists. They're against stations being closed down, unless they're Russian stations," he told RT.
But Martin Summers, a British journalist and political commentator, urged Ukraine's western partners to condemn the expulsions, saying that "otherwise the authorities in Kiev will get away with this behavior and it will become ingrained."
Ukraine's record of treating journalists questioned
Although portrayed in the west as a bulwark of democracy against meddlesome Russia, the peculiar choice of venue for the press freedom conference did not go unnoticed by journalists and analysts who spoke with RT.
"I think the choice of the Ukraine as a venue for an event like this – certainly you can make a case that this is a country where press freedom isn't really at the top of the list in recent years," Henningsen said. "This is a government in Kiev that will use journalists for the most outrageous things, including a couple of weeks ago: [Arkady] Babchenko used by the SBU [Security Service of Ukraine] in an entrapment scheme with a whole fake death plot. It really downgraded the whole journalistic profession."
Galloway also pointed to Babchenko's bizarrely staged murder as an example of Ukraine's questionable role as conference host. "The truth is always a threat to the liars and the falsifiers. The people who can falsify the murder of a journalist, for example, as they did in the Babchenko case not so long ago – are always going to be afraid of the sword of truth," Galloway told RT.
Highlighting Ukraine's deteriorating press freedoms – especially with regards to Russian-language media – Wight noted that "it's lamentable that the OSCE would dare to hold such a conference on free speech in Ukraine, given the reality of what the country represents in 2018."
Rothfuss spoke from personal experience on this matter, describing how he had been placed on a "kill list" maintained by Ukrainian ultra-nationalists after visiting Crimea. "I myself have been placed on the Mirotvorets kill list in 2017 after my visit to the Crimean peninsula, after I had given a press conference there," Rothfuss told RT. "This is a private initiative but is also closely linked to the Ministry of Interior and it has the backing of some parliamentary members."
He said that the West's curious silence about the kill list – which also targets journalists who are deemed enemies of Ukraine – leaves little room for doubt on where they stand on Slier's expulsion. "The important point is that we will see no clear position, no clear pressure on behalf of the Western governments who finance partly the Ukrainian government, who give backing to the Ukrainian government," Rothfuss noted. "We will not see pressure that will end such actions."
Rothfuss said he welcomed efforts by the OSCE "to promote freedom of speech and freedom of media in Ukraine," adding: "of course it will not work if Ukraine is not willing to tackle this challenge."
"If the government of Ukraine arbitrarily just decides to expel people that they don't like, well then obviously, the question for the OSCE is: Should we have our conferences in Ukraine at all?" Summers said while speaking with RT. "If we're going to have peace in Europe, it requires everybody to be allowed to have their say, however unpalatable it may be to some, and for people to share their views – especially if there is some kind of conflict of views."


Like this story? Share it with a friend!
You can share this story on social media: