Wolf v deer: Astounding moment wild carnivore chased away by heroic mom (VIDEO)
Published time: 26 Jun, 2018 18:13
Edited time: 27 Jun, 2018 07:42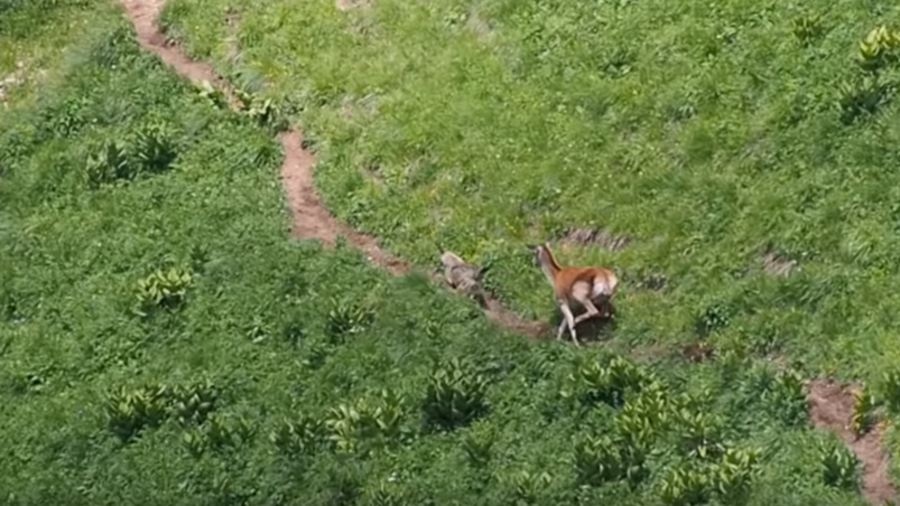 In a stunning example of a mother's urge to protect her young, a female deer chased a wolf down the side of a Russian mountain after it tried to attack her offspring.
Intrepid photographer, Pavel Mudrov, captured video footage of the surprising role reversal while working in Russia's Caucasian nature reserve as part of a scientific expedition.
Mudrov says the mother was likely inspired to chase away the predator after it attacked her young fawns.
The remarkable video shows the wolf racing through the lush countryside as it desperately scrambles to escape from the large deer. The lengthy chase spans over a considerable distance as the deer seems determined to capture the canine.
At one point the wolf looks doomed as the mother comes within feet of stomping it to death, however it manages to jink to safety and escapes up the side of the ridge. Eventually the deer gives up the chase, but the fortunate wolf will surely think twice before it attacks another fawn.
Like this story? Share it with a friend!