Charity blasts United Colors of Benetton over migrant images in ad campaign (PHOTO INSIDE)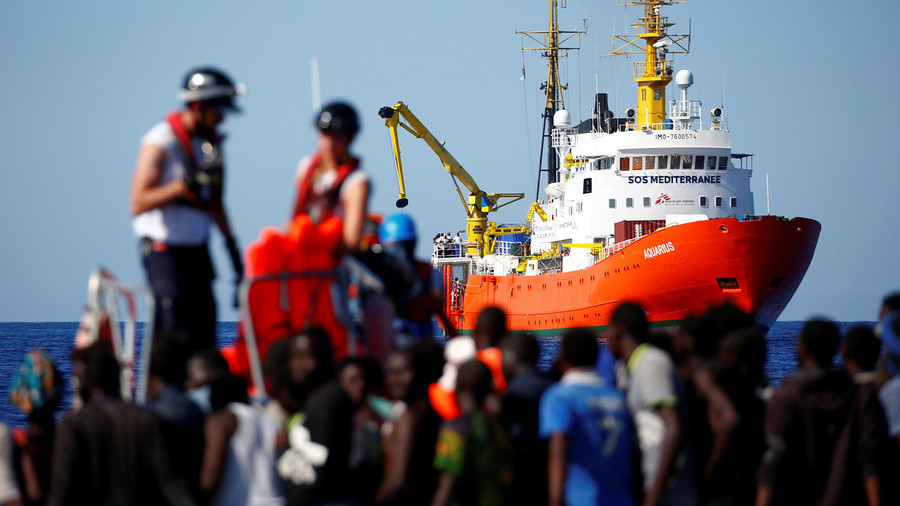 The charity behind the rescue of hundreds of migrants from the Mediterranean has lambasted the Italian clothing firm United Colors of Benetton over the use of its images in a controversial advertising campaign.
The pictures, which were taken by officials from SOS Méditerranée during a rescue operation involving hundreds of migrants on June 9, were published on the firm's Twitter feed Sunday and show migrants at sea and at aid stations being attended to by volunteers. The campaign has appeared online and in Italian newspaper La Republica.
READ MORE: 'Italy left alone in crisis': After shutting ports to migrant rescue ship, Rome rebukes EU criticism
The Franco-German aid organization has condemned the campaign for using the images, writing in a statement posted to Twitter: "Tragedy in the Mediterranean should never be used for commercial gain."
READ MORE: Osborne's Evening Standard accused of making millions 'selling news coverage' to Google and Uber
Italian Interior Minister Matteo Salvini labelled the campaign "squalid" in comments to the Tribuna Treviso newspaper. Benetton's art director, Oliviero Toscani, later hit back at Salvini in a radio interview, saying his comments were only good for "toilet paper." Toscani then defended the use of the image, saying that provocative advertising campaigns were part of the firm's brand and this one could help draw attention to the plight of migrants.
Salvini later tweeted a link to the Tribuna story, along with the line: "Am I the only one to find this despicable?"
READ MORE: Roman Holiday over for migrants: New interior minister vows end to 'refugee camp' Italy
Italy is currently in the midst of a sweeping new crackdown on migration into the country. During a visit to Sicily at the beginning of June, Salvini promised to fight illegal immigration and to end the perception of Italy as "Europe's refugee camp."
Earlier this month, Italy barred the migrant rescue ship 'Aquarius' from docking at its ports. The ship, carrying 629 passengers, was prevented from coming into port as Italy complained that it had been left alone by the EU to deal with the influx of refugees from North Africa.
The vessel was then redirected to Malta where it was again refused permission to dock. The situation was only resolved when Spain's newly sworn-in Prime Minister Pedro Sanchez allowed the ship to be admitted into the eastern port of Valencia.
Like this story? Share it with a friend!