'Italy left alone in crisis': After shutting ports to migrant rescue ship, Rome rebukes EU criticism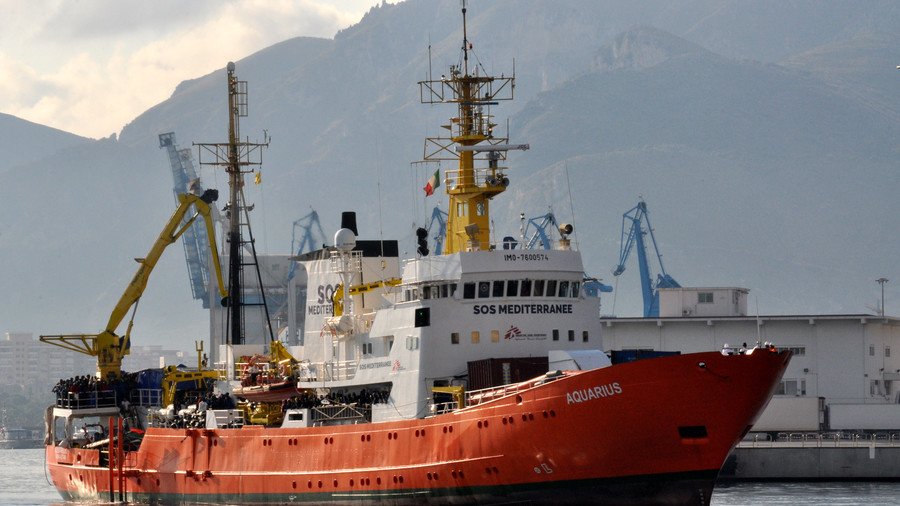 Having come under fire for banning the migrant rescue ship 'Aquarius' with 629 people on board from docking at its ports, Italy's new government says it's been left alone by the EU to deal with the uncontrolled influx of refugees.
"This Europe is not showing solidarity," Prime Minister Giuseppe Conte said, adding that "Italy has to deal with the problem" of illegal human trafficking and migration flows "all by itself."
He pointed out that some EU states shut their borders and refused to co-operate. Italy demands an equal share of migrant intake to be distributed across the bloc, something Conte raised at the G7 meeting this past weekend.
Matteo Salvini, Italy's Interior Minister and Northern League party leader decided to refuse docking to 'Aquarius' and redirect the vessel to the Island of Malta, apparently in line with his election promises. Salvini's move was applauded by his supporters, who cheered the new government's stance to strengthen the patrolling of its borders.
Salvini's critics, however, weren't as keen as they accused the new Interior Minister of lack of empathy and "racism" in a volley of comments. Founder of Italian NGO association "Emergency," Gino Strada, called Salvini a "racist," saying he never expected he would be living in a country where ministers of interior are "cops." Salvini retweeted a video with Strada's comments, adding "Stop human trafficking, let's defend our boundaries, I won't give up, my friends."
Mayors of Naples and Palermo in turn vented their anger at Salvini, as they stated that their cities would be more than happy to accept those in need of shelter despite the fact that both cities had been suffering from major migrant influx in the past five years.
The move also created rifts with Malta's Prime Minister Joseph Muscat who said the he was "worried about the direction taken by the Italian authorities" that according to him went against international law.
Salvini took this a chance to remind that other European countries have been defending their borders without much of a fuss.
"In the Mediterranean...there's Malta that does now welcome anyone, there is France that rejects [refugees] at its borders, there's Spain that defends its borders with the arms. Basically, everyone in Europe does their own business," Salvini said.
Meanwhile, the situation with 'Aquarius' was resolved after Spain decided to step in following the UN refugee agency call to promptly find a way to take the ship full of people in. Spanish newly sworn-in Prime Minister Pedro Sanchez said he instructed the ship to be admitted to the eastern port of Valencia.
The episode has divided opinions in southern Italy, with anti-migrant moods apparently on the rise. While the mayor of Sicily's port town Messina expressed his willingness to welcome the refugees, his opinion seems to clash with that of many locals interviewed by RT's video agency Ruptly. "We need to know who is arriving," a local man, Salvo Cavallaro said, "these 600 people, we don't know who they are. Not all of them are honest people."
Another local resident, Natale Lombardo, said illegal migrants disembarking on the island were virtually "invading" them, adding that "he who arrives here legally is welcomed, but between these people there are also illegals and those can't be tolerated."
Italy has had to accept some 700,000 migrants since 2013, in line with the controversial Dublin Regulation requiring to declare refugee status in their first country of arrival. In his first address to the parliament, PM Conte promised his government would steer the country to solve this problem that "has grown out of all proportion under the cloak of fake solidarity".
Think your friends would be interested? Share this story!
You can share this story on social media: