US & N. Korea following 'double freeze' plan proposed by Moscow & Beijing – experts to RT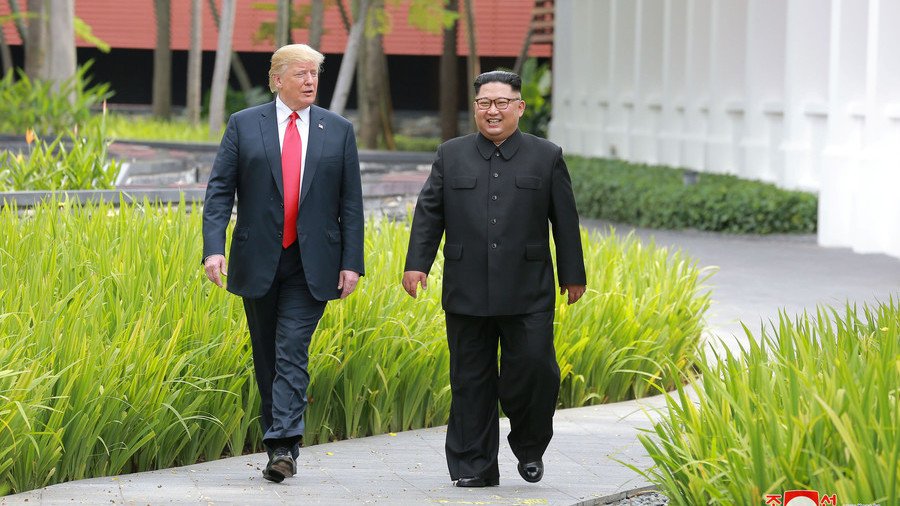 The suspension of a joint military exercise by Washington and Seoul shortly after a number of concessions by Pyongyang amounts to adopting the 'double freeze' strategy, long advocated by Russia and China, experts told RT.
The "historic" four-point document that US President Donald Trump and North Korean leader Kim Jong-un signed following their landmark meeting in Singapore is more of a declaration of intent than a roadmap for an actual resolution of their differences, experts told RT. But even such a vague promise of a less hostile future can bring benefits, at least in the short term.
"The agreement itself is just the first step" on the long road to improving the relations between Washington and Pyongyang, Konstantin Asmolov, a senior research fellow at the Korean Studies Center of the Russian Academy of Sciences' Far East Institute, told RT.
Both sides took some concrete steps to de-escalate tensions that are not mentioned in the document. North Korea announced the suspension of nuclear and missile tests and made a show of shutting down a nuclear testing range for foreign reporters even before the summit. And on Monday, the US and South Korea announced that they "suspended all planning for the Ulchi Freedom Guardian," an annual joint war game that was scheduled for August.
The exercises, which openly involved explicitly offensive operations and simulations of the invasion and assassination of North Korean officials, have always been a source of anger for Pyongyang and arguably a factor of tension on par with North Korea's nuclear and missile tests, Asmolov noted.
The US move is "a welcome response to all of the unilateral concessions that North Korea had made earlier," Gregory Elich, an associate at the Korea Policy Institute, told RT.
The exchange of concessions by the US and North Korea falls in line with the so-called "double freeze" suggestion, which was introduced by Moscow and Beijing as early as in September 2017, both experts said. It basically called for both parties to put on hold the actions that irritated the other side most, and it came amid a spree of hostile rhetoric coming from both Washington and Pyongyang. The double freeze was flatly rejected by the US at the time.
"Even though neither of the two actually speaks a word [about "double freeze"], both de facto follow this path," Asmolov said.
Washington and Pyongyang have a long way to go to translate this initial diplomatic impulse into a more tangible agreement, of course, and Kim has good reasons to doubt Trump's ability to deliver on a promise of a lasting solution, experts said. Trump himself withdrew from the Iran nuclear deal negotiated by his predecessor Barack Obama, and the next US president could backtrack on a Trump deal with North Korea.
"It is difficult to imagine what kind of security guarantee the United States can offer that could be trusted. A piece of paper is not going to do it. Nor, on its own, is the signing of a peace treaty formally ending the Korean War," Elich said. "It may be that the Trump administration would be sincere in signing such a document. But the next US administration may very well have no compunction in abandoning it."
A binding deal with North Korea would require a ratification by the US Congress, which is infamous for bringing partisanship and electioneering into all sorts of foreign policy issues.
Think your friends would be interested? Share this story!
You can share this story on social media: