Russia's famed Mariinsky Orchestra hosts 1st ever concert in Saudi Arabia (VIDEO)
Published time: 18 Jun, 2018 10:02
Edited time: 19 Jun, 2018 08:41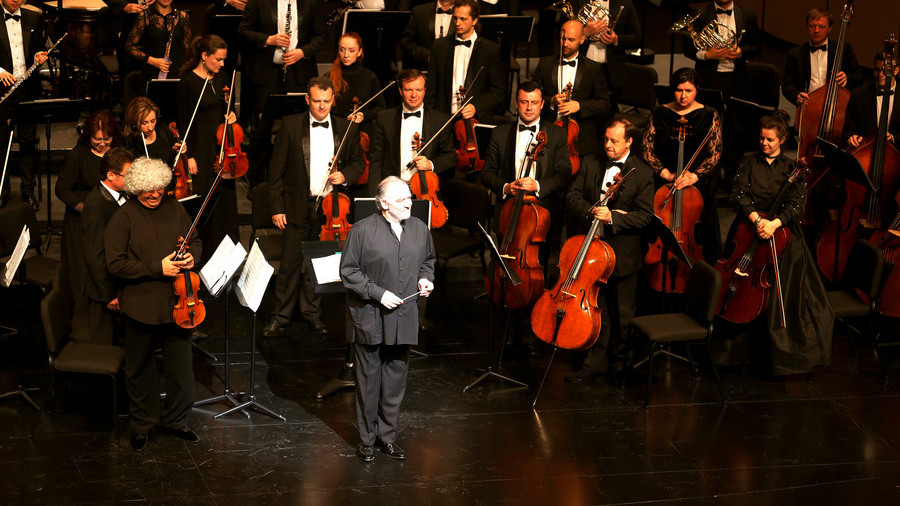 Renowned conductor Valery Gergiev took his famed Mariinsky Orchestra to Saudi Arabia to show the best of Russian classical music and pave the way for cross-cultural exchange between Russia and the conservative kingdom.
The St. Petersburg-based Mariinsky Orchestra was invited for an inaugural performance at the King Abdulaziz Center for World Culture (Ithra). The center, located in the eastern city of Dhahran, is poised to become a cultural hub for the Saudi Kingdom, which is opening up to the world.
READ MORE: Healing music: Palmyra to see Russian orchestra conducted by Valery Gergiev
The Mariinsky Orchestra could be heard playing the works of Prokofiev, Grieg, Vivaldi, Tchaikovsky, Mozart, and others. This is the first time the famed orchestra has ever performed in the kingdom, according to the Russian Direct Investment Fund (RDIF) and oil giant Saudi Aramco, which helped organize the concert.
"The Mariinsky Theatre Orchestra's concert at the King Abdulaziz Centre for World Culture opens the gate for the best of Russian culture to be introduced to the Kingdom of Saudi Arabia," said Kirill Dmitriev, the CEO of the RDIF. He added that the fund is proud that "Saudi Arabia's most modern theatre will open with a performance by Russia's oldest orchestra."
The performance, which coincided with Eid celebrations, signals the start "of a new cultural era for visitors who make their way to Ithra," Ali Al Mutairi, the center's director, said.
The Mariinsky Theatre Orchestra is the oldest orchestra in Russia, dating back over 200 years to the first St. Petersburg Imperial Orchestra. Gergiev, one of the best-known and most sought-after conductors in the world, has led the orchestra since 1978.
Valery Gergiev made headlines in 2016 when he staged a concert in the ancient Syrian city of Palmyra to support the restoration of the UNESCO site and pay tribute to those killed in the war.
Like this story? Share it with a friend!