Pentagon finds Afghanistan's 'new' Black Hawk helicopters inferior to Russian Mi-17s
Published time: 16 Jun, 2018 21:45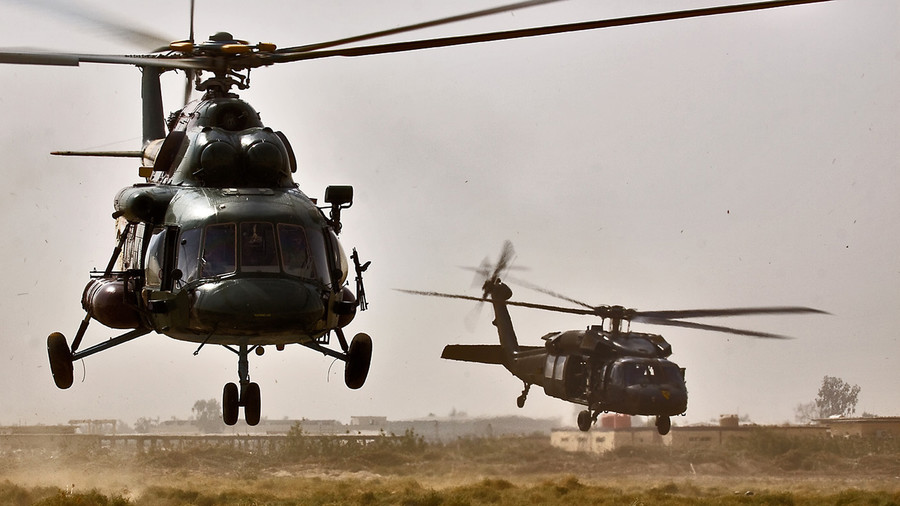 US plans to replace Afghan Mi-17s with Black Hawks have met new "challenges," as the Russian military choppers are superior, according to a Pentagon report. On the bright side, "private contractors" will be busy maintaining them.
The revelation has been made by the Lead Inspector General in a quarterly report on Operation Freedom's Sentinel – the current code name for the16-year-plus deployment of US troops in Afghanistan.
The decision to supply Kabul with some 160 refurbished UH-60A Black Hawk helicopters was expected to significantly boost the capabilities of the Afghan Air Force and would contribute to breaking or fully break the "stalemate" in the country.
The Black Hawks are set to replace the Afghan fleet of Russian Mi-17 transport-assault helicopters.
The Pentagon, however, has warned about a lack of "necessary technical skills" among Afghani trainee pilots, as well as other obstacles, such as lack of proper "English language training."
The new report, by the top military watchdog, has uncovered even more flaws in the plan to supply Afghanistan with UH-60As.
"The transition presents several challenges that have yet to be fully addressed. Black Hawks do not have the lift capacity of Mi-17s. They are unable to accommodate some of the larger cargo items the Mi-17s can carry, and in general, it takes almost two Black Hawks to carry the load of a single Mi-17," the report reads.
Moreover, the Black Hawks "cannot fly at high elevations and, as such, cannot operate in remote regions of Afghanistan where Mi-17s operate." Russian-made helicopters will therefore continue to "play a 'crucial role' in the near term fighting season." "In the future, as Mi-17s phase out of service, the aforementioned challenges will become more pronounced," the report warned.
It remains unclear how exactly these "challenges" emerged unexpectedly, since both the Mi-17 and UH-60A helicopters date back to the 1970s and their capabilities should have been well known to the US military. Indeed, military analysts had repeatedly warned against the UH-60A program, citing all the aforementioned concerns.
Such "surprise" concerns might actually originate from political –and commercial– motivations, the report hints.
"According to DoD, that transition was driven largely by the requirement for additional rotary wing lift and aerial fires capability, particularly given attrition of the Mi-17 fleet, and Congressional direction to transition to US-made rotary wing aircraft rather than spending any more from the [Afghan Security Forces Fund] on buying helicopters from Russia," the document states.
Apart from making use of the refurbished UH-60As, the transition would also keep the "private contractors" busy "in the near to mid-term," as the local forces lack the required experience to maintain the US-made helicopters. The Mi-17, by comparison, gets roughly 80 percent of its maintenance from Afghan specialists, while relying on "contractor logistics support" for the remaining 20 percent.
Like this story? Share it with a friend!