Kim covered by 'wall of bodyguards' strolls Singapore quay before meeting Trump (VIDEO)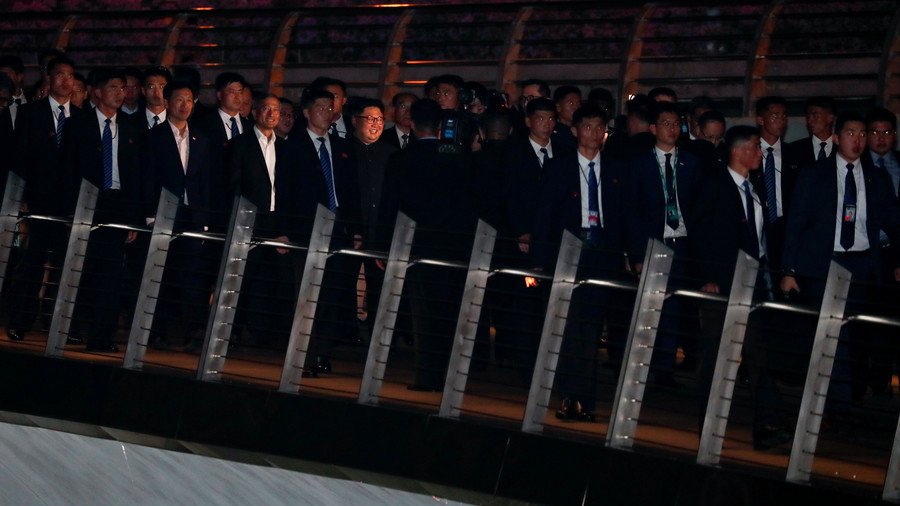 Hours before the historic summit with US President Donald Trump is set to kick off, Kim Jong-un went out for a walk in Singapore surrounded by a wall of bodyguards.
The North Korean leader appeared completely boxed in by several dozens of men in black when he decided to take a walk near the luxury St. Regis hotel, where he is staying. Kim's massive security team covered him from all sides, making him barely visible to reporters who were snapping pictures of the 'procession'.
READ MORE: From Little Rocket man to Dear Kim: Drama all set for historic talks in Singapore
Kim always travels with tight security, and his bodyguards usually follow him everywhere. It appears to be an exhausting duty, since, among other things, Kim's squad is required to jog along his car. This time they had it a bit easier, though – as the North Korean leader preferred to walk nonchalantly, enjoying the evening and clearly not being in a hurry.
The expected Kim-Trump meeting is considered unique given it'll be the closest meeting the leaders of the US and North Korea have ever had. It will take place after some tension, when the nations exchanged insults, and Trump famously called Kim "little rocket man".
Like this story? Share it with a friend!
You can share this story on social media: