'Permanent' peace will be discussed at Trump-Kim meeting – KCNA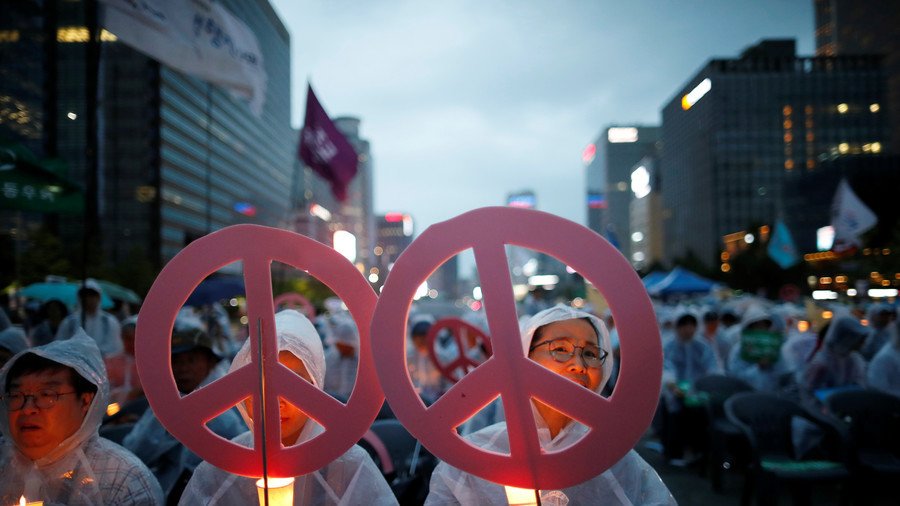 North Korean state media has confirmed that the leaders of North Korea and the US will focus on ensuring permanent peace and a nuclear-free Korean Peninsula in Singapore. Pyongyang says it hopes for a "new" start with the US.
The expected key points on the agenda of the much-anticipated meeting between Kim Jong-un and President Donald Trump were unveiled by KCNA, North Korea's state news agency, on Monday.
As it was widely expected, the two leaders will discuss the issue of denuclearization, a concept that is feared to become the main stumbling block on the way to a diplomatic breakthrough. The report came the closest so far to an official confirmation that a permanent peace deal may be in the works, with KCNA saying that "the issue of building a permanent and durable peace-keeping mechanism" on the peninsula will be one of the main priorities during the talks.
It was reported last month that South Korean President Moon Jae-in might join in the talks between Kim and Trump if their summit in Singapore proves successful. Moon later proposed a tri-lateral meeting to put a formal end to the Korean war after the summit. While hostilities ended with an armistice in 1953, no peace treaty has been signed yet.
Apart from breaking a year-long deadlock on nuclear negotiations, Pyongyang also eyes an overall improvement of the US-North Korea bilateral ties and "other issues of mutual concern as required by the changed era," KCNA reported, adding that the delegations will share "wide-ranging and profound views on the issue of establishing new DPRK-US relations."
The agency revealed that Kim flew in on a Chinese plane, provided for his "personal use," accompanied by a host of senior officials, including his influential sister, Kim Yo-jong.
While both sides have repeatedly spoken on the need for "complete denuclearization" on the Korean Peninsula, Kim indicated that he would be ready to give up his nukes only if all of his security concerns are met. Trump has previously sought to assure the North Korean leader that Washington will not seek to wreck his rule by turning his country into the next Libya.
"He would be there, he would be running his country, his country would be very rich," Trump said in May, noting that Libya "was a much different model" and not applicable in this case. In return for safeguards and potential economic help, Trump demanded "complete, verifiable and irreversible" destruction of North Korea's nukes.
However, according to Moon, Kim remains skeptical of the US leaders' pledges.
"Chairman Kim is worried about whether he can trust that the US will end the policy of hostility and guarantee the stability of his regime," the South Korean President told the media upon his secretive meeting with Kim in May.
You can share this story on social media: