Kim remains skeptical about Washington's security pledge upon de-nuclearization – Moon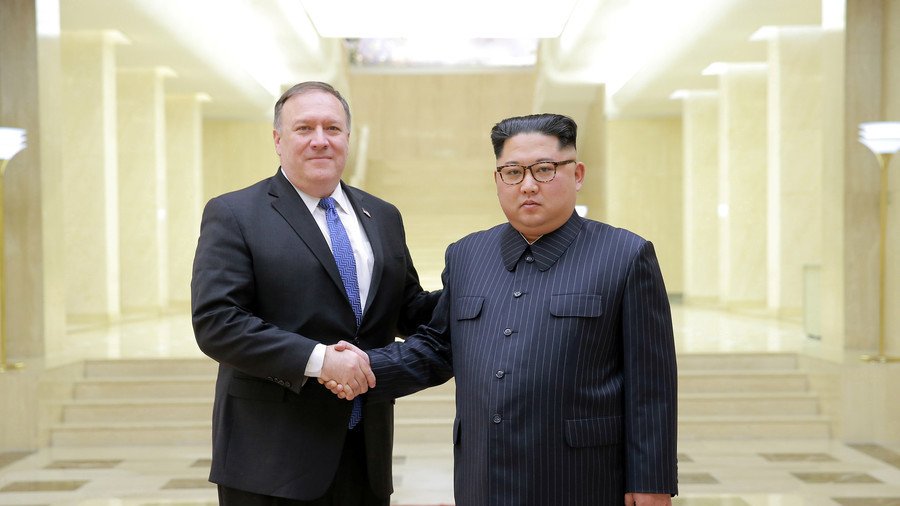 North Korean leader Kim Jong-un finds it hard to trust US President Donald Trump's assertions that the US would not seek to undermine his rule after Pyongyang gets rid of all its nukes, South Korean President Moon Jae-in said.
Moon was speaking in the wake of the surprise talks he held with the North's leader on Saturday near the demilitarized zone between the two Koreas. He revealed that Kim agreed to engage in "direct communication" with Washington to prepare for the newly resuscitated summit, but said that its fate still depends on future negotiations between the parties.
Moon went on to add that he "relayed the message that President Trump is firmly willing to end his country's hostile relationship with North Korea and enhance economic cooperation should Chairman Kim make a decision on complete denuclearization and implements it."
Kim reportedly reiterated his pledge to de-nuclearize, but cast doubt on Washington's promise to provide him with security guarantees that the North seeks.
The Saturday summit between Moon and Kim became the second time the two leaders met in less than two months, and it followed a groundbreaking meeting in April. Earlier, Yonhap, citing North Korean state media, reported that the leaders of two Koreas agreed to meet for a third time on June 1.
The latest meeting was carried out at Kim's initiative, Moon revealed, saying that the North Korean leader reached out with the idea the day before, on Friday.
With the Trump-Kim summit back on the cards, Moon said that he is looking forward to a three-way meeting between him, Trump and Kim to formally put an end to the Korean War. Hostilities ended with an armistice in 1953, and a permanent peace treaty has never been signed. The South Korean leader said he hopes the proposed trilateral meeting takes place after a successful summit in Singapore.
Trump has gone back and forth on the issue within the last few days, abruptly cancelling the much-anticipated summit on Thursday and hinting that it was back on the table on Friday. Speaking to the press on Saturday, Trump indicated that the summit will most likely take place, saying that the preparations are "moving along very nicely."
You can share this story on social media: