AFP photographer shot in the leg by IDF amid Gaza protests
Published time: 9 Jun, 2018 13:02
Edited time: 10 Jun, 2018 08:39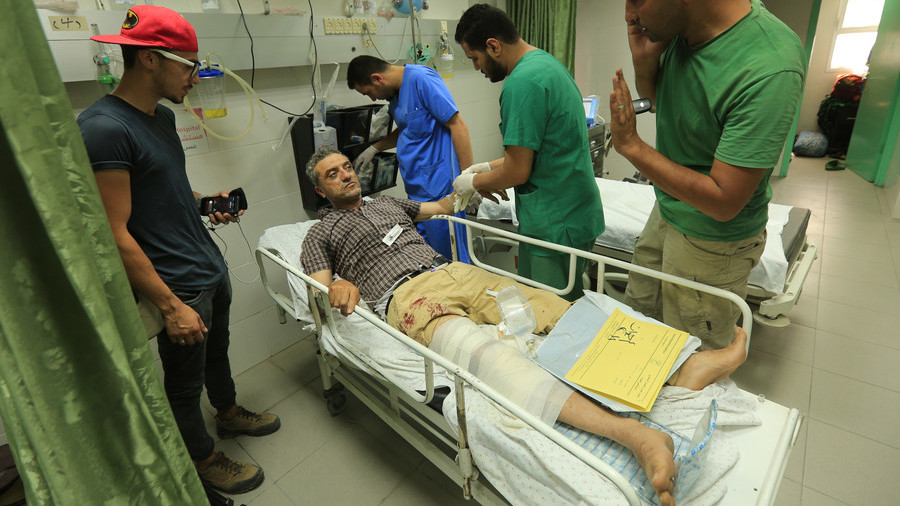 A press vest did not protect an AFP photographer from Israeli bullets fired during protests in Gaza. He was taking a picture of a wounded protester when a bullet hit his leg.
On Friday, Mohammed Abed al-Baba was shot below the knee while wearing a clearly identifiable press vest and helmet around 200 meters from the border east of Jabalia in northern Gaza, according to AFP, citing the photographer. He was trying to photograph a protester who was injured earlier, when he himself was shot. Baba has been working for the agency in Gaza for nearly 18 years.
His colleague posted a photo on Twitter showing the injured man in bandages in what appears to be a hospital. In a post on Facebook, Baba said that he had undergone an operation on his right leg and is currently recovering.
Palestinian Ministry of Health Spokesperson Dr Ashraf al-Qudra said that Baba was wounded by Israeli fire. Since the beginning of the protests along the fence at the Gaza-Israel border on March 30, at least two Palestinian journalists were killed and dozens more were wounded by the Israel Defense Forces (IDF) despite wearing the necessary marked vests.
A 21-year-old Palestinian medic, who has been wearing a medical uniform, was also killed by the IDF during protests. The Israeli military posted a heavily-edited video online, alleging Razan al-Najjar was "incited by Hamas" and was taking an active part in the rioting.
On Friday, the Gaza health official announced that at least four Palestinians, including one 15-year-old, were killed and more than 600 were injured during protests in Gaza. More than 100 of the injuries are from live gunfire, according to Ashraf al-Qudra.
Palestinians have been taking part in weekly March of Return protests against what they say is the Israeli occupation of their land for two months now. Tel Aviv denies any excessive use of force, saying that the riots are violent and pose a threat to the security of Israel, and it is acting in self-defense.