9 journalists injured by Israeli gunfire in Gaza 'massacre', total now over 20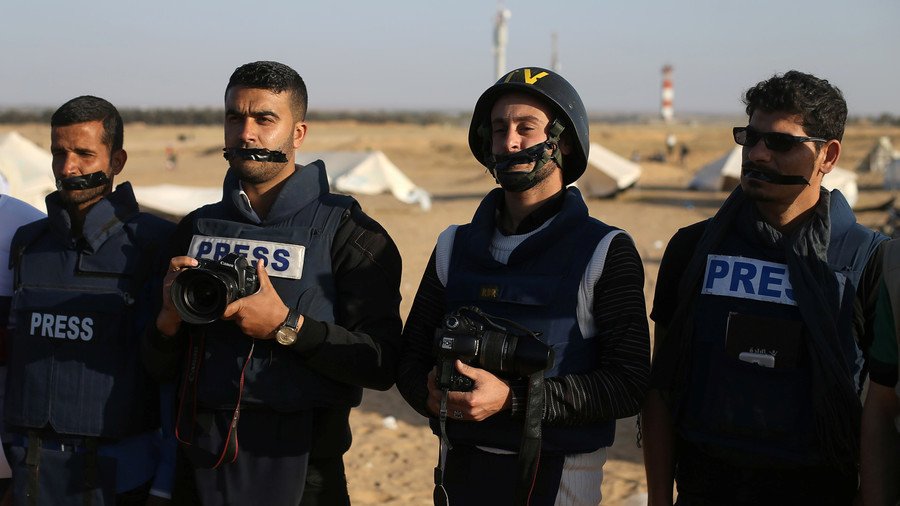 At least nine journalists have been injured reporting from Gaza during Monday's "massacre," bringing the total number of reporters wounded by IDF gunfire so far to more than 20, in addition to two fatalities.
The Committee to Protect Journalists (CPJ) list eight journalists who were injured while covering Monday's protest in Gaza during the US embassy inauguration in Jerusalem. It cites reports from the Palestinian Journalists Syndicate, social media and local news outlets. The International Federation of Journalists estimates the figure to be as high as 13.
Among those injured by Israeli gunfire are photojournalist Omar Hamdan, Al Jazeera journalist Wael Dahdouh, journalist Farhan Hashem Abu Hadayd, local reporter Abdullah al-Shorbagi, cameraman Mohammed Abu Dahrouj, community radio reporter Nihad Fuadand and Yasser Qdeih.
Qdeih was critically wounded and remains in intensive care after undergoing surgery in East Jerusalem on Tuesday. Also injured were Itehad cameraman Mohammed al-Duwaik and AJ correspondent Hoda Abdel Hamid, who was reportedly hospitalized after an Israeli drone targeted a group of journalists with a tear gas canister.
READ MORE: 6 Palestinian journalists injured during Gaza protests – reports
According to the CPJ, at least 23 journalists have been struck by live rounds fired by Israeli Defence Forces since the weekly protests in Gaza began on March 30. This number includes the two who later died from their injuries, but does not account for the journalists injured by physical assault, tear gas canisters or shrapnel.
Yaser Murtaja, 31, a cameraman for Palestinian Ain Media agency, died on April 7 after he was shot by Israeli forces the previous day while covering a protest south of the Gaza Strip. He wore a blue protective vest marked 'PRESS'. After his death, the Israeli military said it does not intentionally target journalists and that it would look into the circumstances of the shooting.
READ MORE: 'Terrible massacre': Israel kills 43, injures 2,200 Gaza protesters as US embassy opens in Jerusalem
Ahmad Abu Hussein, 24, was shot by Israeli forces during a protest in the Gaza strip on April 13. He died from his injuries on April 25. He was also wearing a protective vest marked 'PRESS' at the time.
After Hussein's death, the Palestinian journalists' union accused Israel of "deliberately" targeting reporters and vowed to bring "leaders of the occupation" to justice.
"Protective gear that clearly indicates individuals are members of the press should afford them extra protection - not make them targets,"said Sherif Mansour, Middle East and North Africa programme coordinator for the Committee to Protect Journalists.
On Monday, at least 60 people were killed and more than 2,700 protesters injured by Israeli fire in Gaza, in what the Palestinian government denounced as a "terrible massacre". Israel denied accusations of using excessive force against the protesters, insisting the crackdown is justified as necessary means to protect its border.
Think your friends would be interested? Share this story!
You can share this story on social media: