IDF attempts to smear slain Palestinian medic with inaccurate video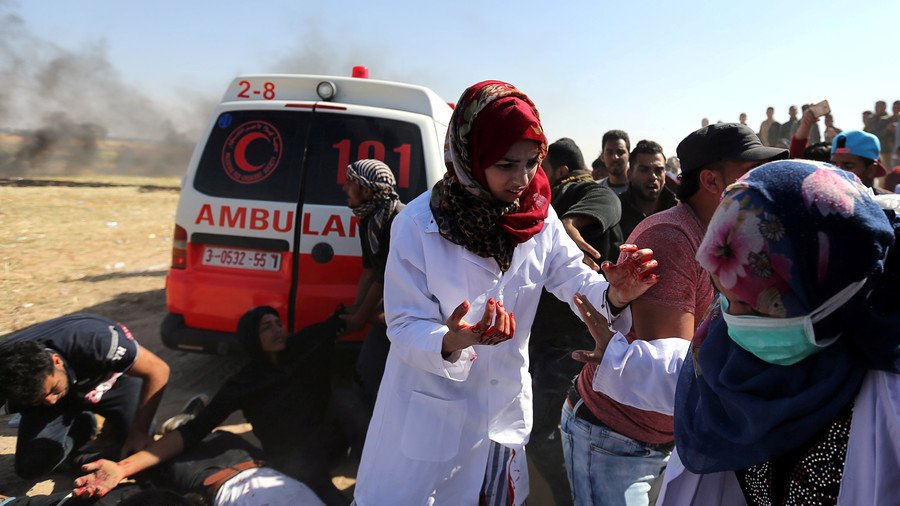 The Israel Defense Forces' attempt to smear medic Razan al-Najjar, the 21-year-old killed last week, backfired when a video it shared on social media was swiftly debunked.
The IDF shared an edited video of Najjar on both its English and Arabic spokesperson Twitter accounts on Thursday.
"Hamas' use of human shields must stop." it wrote in English. "Razan al-Najjar is not the angel of mercy that Hamas propaganda attempts to portray," the Arabic spokesman Avichay Edraee's tweet reads. The Arabic version of the video begins with an image of Najjar with angel wings and a halo. The video, which has an ominous soundtrack, claims Najjar was "incited by Hamas," and it shows footage of Najjar throwing a gas canister.
Another clip shows an interview with Najjar - which has been carefully edited to exclude half of her sentence. "I am Razan al-Najjar. I am here on the frontlines and I act as a human shield," the English subtitles read. The video then cuts to text reading, "Hamas uses paramedics as human shields," before encouraging people to share.
READ MORE: 4 killed, hundreds injured in Naksa protests in Gaza
Debunking
However, the video turned out to be made from a heavily edited original. The first scene, which reportedly shows Najjar throwing the gas canister, clearly shows her throw it away from the people she is standing with, and nowhere near the fence. The canister falls in the grass mere meters away from the woman. She is wearing a surgical mask at the time, although it has not been confirmed that Najjar is even the woman in the video.
READ MORE: Debunked: Video of 'fake dead Palestinians' exposes pro-Israel propaganda
The next clip featured in the video, the interview with Najjar, is also not as it seems. The IDF decided to cut mid-way through the interview with Al Mayadeen, so viewers have no idea what the second half of her sentence is. The full sentence was: "I am Razan al-Najjar. I am here on the frontlines and I act as a rescuing human shield to protect and save the wounded at the frontlines."
Najjar was shot in the chest while she was wearing her medical uniform last Friday. A preliminary probe by the Israeli army found soldiers did not mean to fire at Najjar, and that she was not a target.
However, two weeks ago, the IDF shot 19 medical personnel in Gaza in a single day, including Moussa Abu Hassanein, who was fatally shot in the chest. Canadian doctor Tarek Loubani was among the medics who were shot that day, and he maintains they were targeted by Israeli forces.
READ MORE: 'Fake crutches' video singled out to undermine 'Palestinian narrative' on deadliest Gaza day
In her interview with Al Mayadeen, Najjar also said, "With all my strength and determination and whatever risks I will continue my career and I will save all the injured, so that they return and defend our land." Her words suggest that she had no intention of dying as "a human shield."
Israel often accuses Palestinians of partaking in 'Pallywood,' which they claim are fake videos and images designed to gain attention from Western media. However, Israel has been caught doing the same thing it accuses the Palestinians of, only in their case, it is an effort to minimize their crimes against Palestinians. Israel has also been found to use Palestinians as humanshields themselves.
Think your friends would be interested? Share this story!

You can share this story on social media: