4 killed, hundreds injured in Naksa protests in Gaza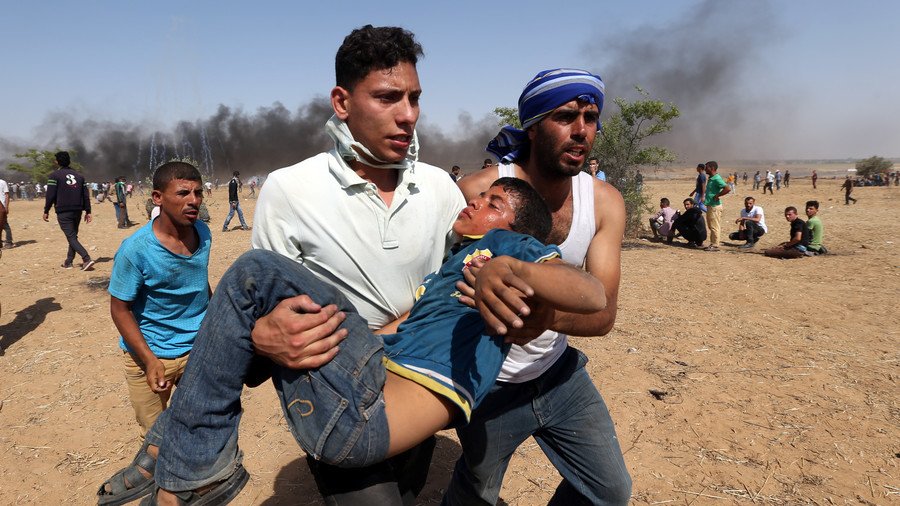 At least four Palestinians, including one 15-year-old, have been killed at protests in Gaza. The protests are a continuation of the Great Return March, and this week marks both Naksa Day and Jerusalem Day.
'Naksa,' or setback, is what Palestinians call the anniversary of the 1967 Six-Day War on June 5, which saw Israel annex the West Bank from Jordan and the Gaza strip from Egypt. It is also 'Quds Day' or Jerusalem Day, which Iran established in 1979 to support Palestinians.
The Gaza Ministry of Health announced more than 500 have been injured at the protests along the Gaza-Israel security fence. At least 80 of the injuries are from live gunfire and some are in critical condition.
On Friday, the IDF said a grenade, a pipe bomb and an incendiary kite were thrown towards the Israeli side of the fence.
Israeli officials appeared prepared for a violent day in the lead up to Friday, with many reports warning they were expecting a big turnout. An anonymous senior officer told the Times of Israel the army was working to limit deaths, but it was prepared for a similar death toll to May 15, when over 60 Palestinians were killed while the US Embassy opened in Jerusalem. The army added additional barbed wire barriers on both sides of the fence before Friday's protest, the official said.
Gazans have been taking part in weekly protests for two months now, and more than 120 Palestinians have been killed in that time, including journalists and medics. The protest demonstrates Palestinians' desire to be granted the refugee right to return to the homes they fled in the violence leading up to the establishment of the state of Israel, as well as the subsequent displacement during the 1967 war and beyond. More than 70 percent of people living in Gaza are refugees.
"The determination and professionalism of IDF soldiers on the Gaza border prove themselves," Defense Minister Avigdor Lieberman wrote on Twitter. "Despite the great efforts by Hamas and Iran, less and less terrorists are arriving at our border. Thank you, IDF soldiers, thanks to you we will win."
הנחישות והמקצועיות של חיילי צה"ל בגבול עזה מוכיחות את עצמן. למרות המאמצים הגדולים של חמאס ואיראן, פחות ופחות מחבלים מגיעים לגבול שלנו. תודה לכם חיילי צה"ל בזכותכם ננצח. שבת שלום.

— אביגדור ליברמן (@AvigdorLiberman) June 8, 2018
"Every person we lose along the way is dear to us and the loss is painful." Hamas' leader Ismail Haniyeh said. "So, if we are able to gain our right to freedom, independence and honourable living peacefully, this would be our best option," he added that if they are unable to do so, then it is their right to "resist occupation through all possible means, including armed resistance, a right that is legitimate and guaranteed by international law."
Sabreen al-Najjar, the mother of Palestinian medic Razan al-Najjar, who was killed by Israeli forces last week, was also at the protests, wearing her daughter's bloodied uniform.
Think your friends would be interested? Share this story!
You can share this story on social media: