Debunked: Video of 'fake dead Palestinians' exposes pro-Israel propaganda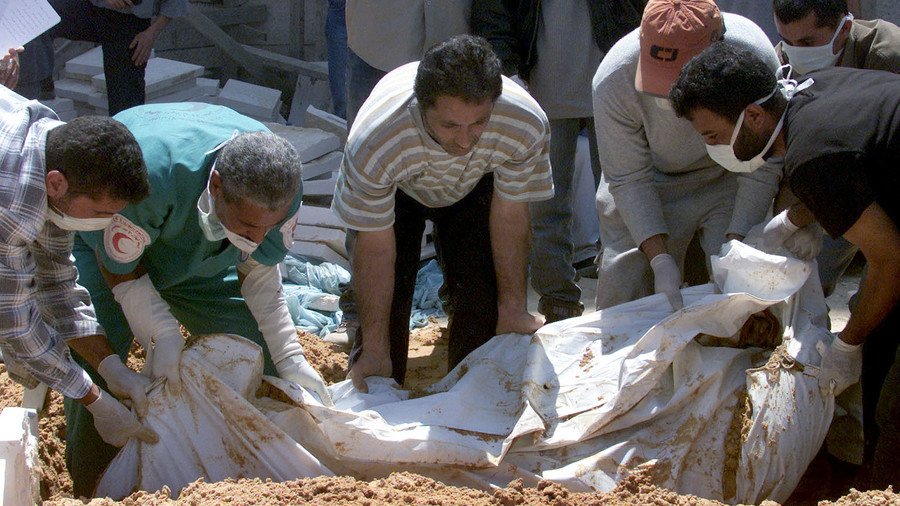 A video circulating on social media claiming to be evidence that Hamas is faking deaths in Gaza does not actually portray what has been claimed. And not only that – the footage is more than four years old.
The video was shared among pro-Israel social media users in the wake of Monday's Great Return March protests in Gaza, in which Israeli fire killed at least 60. People shared it as 'proof' that Hamas is either faking the number of deaths reported after Monday's unrest or is manipulating people into feeling sympathy for the Palestinian cause.
However, the video actually dates back to 2013 and has been used as anti-Palestinian propaganda since at least 2014, when Israel's Operation Protective Edge war on Gaza saw more than 2,200 Palestinians killed, more than 1,462 of whom were civilians, according to the UN.
A YouTube search for 'fake Hamas funeral' brings up a 2014 video entitled, 'HHamas [sic] lies? Dead bodies that move? Propaganda gone wrong – you decide.' The video itself isn't an original, but the logo is legible – it's from an Egyptian news organization, called el Badil.
Loud, cheerful music plays in the video and the 'corpses' have their feet exposed. Usually, Muslim burial shrouds cover the feet, and rope is normally tied around the shrouds. At one stage, a man inside a shroud moves. Another of those covered by the shrouds also moves the material laying over him, and scratches his face. This part of the video is cited by those sharing it on social media as clear evidence that it's a faked video.
A reverse image search of the video's thumbnail brings up lots of results claiming the video shows proof of Hamas lying. In one instance, the video is even portrayed as being evidence of deaths being faked in Syria.
A few comments under the tweets circulating in the last 24 hours say the video is of a mock funeral at a university. One commenter posted a link to a 2014 video of a news presenter explaining that there's more to the video than at first appears. Ultimately, the original el Badil report hails from 2013 and depicts a Muslim Brotherhood protest at al-Azhar University.
Like this story? Share it with a friend!
You can share this story on social media: