'Fake crutches' video singled out to undermine 'Palestinian narrative' on deadliest Gaza day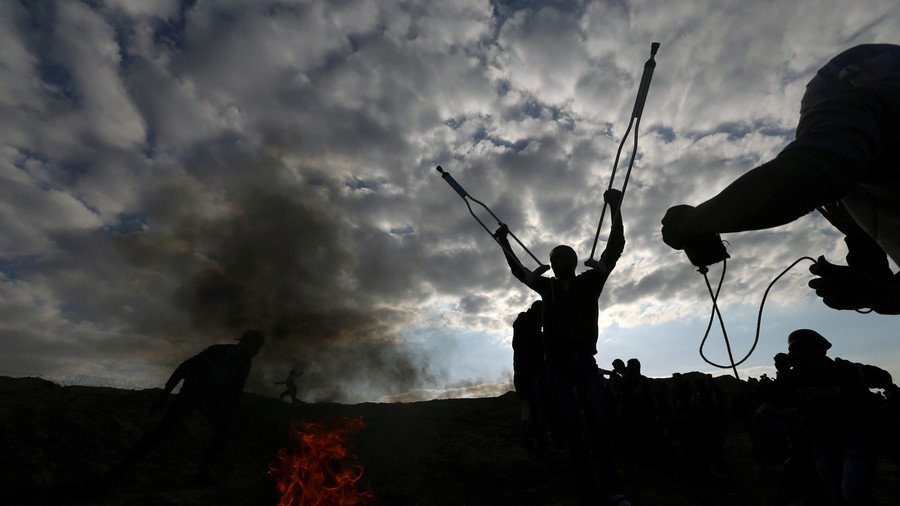 Former White House press secretary Ari Fleischer shared a video of a protester with crutches running from the deadly Israeli crackdown at the Gaza border, as an example of Palestinian propaganda he accused media of falling for.
"The media always falls for it," Fleischer wrote in his tweet, sharing a video by an ultra-Orthodox Israeli Behadre Haredim reporter, Yanki Farber. Fleischer, who was the spokesman to George W. Bush, went on to accuse media of loving the "Palestinian narrative" about the unreasonable Israeli violence "so much they never learn a lesson." Farber, who also runs the account 'Israel & USA forever,' went as far as to call all Gaza protesters "terrorists."
While exposing an apparent attempt to manipulate public sentiment, Fleischer's comment does not change the fact that Monday has become one of the deadliest days in recent Israeli-Palestinian history, with 60 killed and nearly 3,000 injured at the Gaza border.
From the very onset, the Israeli Defense Forces (IDF) have responded to the six-week Palestinian protests in Gaza with significant force. On March 30, the first day of the Great Return March protests, more than 10 people were killed and hundreds were injured by live ammunition, rubber bullets and tear gas.
"Yesterday we saw 30,000 people; we arrived prepared and with precise reinforcements. Nothing was carried out uncontrolled; everything was accurate and measured and we know where every bullet landed," IDF tweeted on March 31, though that tweet has since been deleted.
Human Rights Watch concluded Israeli forces were "acting on orders that all but ensured a bloody military response to the Palestinian demonstrations," the result of which was "foreseeable deaths and injuries of demonstrators… who posed no imminent threat to life."
In an April interview with Kan radio, Israeli Brigadier-General Zvika Fogel confirmed snipers that shoot at minors at the fence are doing so deliberately, under specific orders.
"It is not the whim of one or the other sniper who identifies the small body of a child now and decides he'll shoot. Someone marks the target for him very well and tells him exactly why one has to shoot and what the threat is from that individual." he said. "And to my great sorrow, sometimes when you shoot at a small body and you intended to hit his arm or shoulder, it goes even higher."
In the weeks since, Israel has killed more than 100 protesting Palestinians. While it calls them dangerous rioters and terrorists, and blames Hamas for their deaths, it is undeniable that children, journalists and disabled Palestinians often end up among the dead.
Some documented examples include journalist Yasser Murtaja and 15-year-old Muhammad Ibrahim Ayyoub, whose death prompted an EU call for an investigation. Defense Minister Avigdor Lieberman said Ayyoub's death was the fault of Hamas, as Gazans had been warned not to approach the fence.
Even before the Great Return March took place, a double amputee Ibrahim Abu Thurayeh was killed at protests over Trump's embassy announcement in December. The IDF's investigation found "no moral or professional failures" in the incident and insisted Thurayeh wasn't fired at.
Though the video Fleischer retweeted shows a Palestinian pretending to need crutches, a large number of disabled people and amputees actually reside in Gaza. The 2014 war in Gaza alone created about 100 new amputees, according to ReliefWeb. The UN estimates that 2,200 Palestinians were killed in the conflict, including 1,492 civilians and 605 militants, while 123 remain 'unverified.'
'No moral failures': IDF finds no wrongdoing in death of disabled Palestinian as UN urges probe
Cases of children becoming collateral victims of Israeli war on Palestinian terrorism are also well documented. During the 2014 war on Gaza, the world was horrified when journalists witnessed the IDF killing four children playing on the beach with a missile fired from a gunboat. The IDF found absolved itself of any blame, saying the crew of the boat thought the children, ranging in age from 9 to 11, were Hamas fighters. Three of the children were killed as they ran away, after the first child was killed.
Israel is promoting the so-called "Pallywood" narrative that dismisses videos of IDF abuse as controversial and fake, to discount potential evidence of violence against Palestinians. While it is evident that a percentage of videos shared on social media are being manipulated to catch greater attention of western media, they don't cancel out the reality that Israel's treatment of Palestinians is problematic and includes vivid examples of violations of human rights.
Think your friends would be interested? Share this story!
You can share this story on social media: