Like 'Nazis who died in WWII': Israeli minister dismisses victims of Gaza protests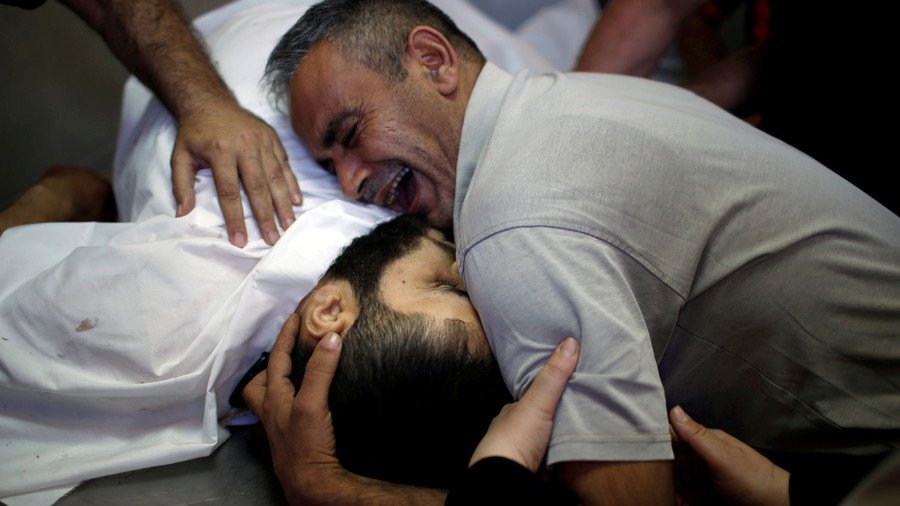 Israeli Public Security Minister Gilad Erdan appeared to liken Palestinians killed in ongoing border protests to Nazi casualties in World War II when he tweeted about the death toll in Gaza.
Erdan said the number of Palestinians killed at Monday's protest "doesn't indicate anything – just as the number of Nazis who died in the world war doesn't make Nazism something you can explain or understand."
מדינת ישראל אינה חפצה בהסלמה ואינה רוצה במותם של תושבי רצועת עזה. מי שרוצה בכך זו אך ורק הנהגת ארגון הטרור חמאס, שעושה שימוש ציני מרושע בדם שנשפך. מספר ההרוגים אינו מלמד דבר! בדיוק כפי שמספר הנאצים שמתו במלחמת העולם לא הפך את הנאציזם למשהו שניתן להסביר או להבין. אמת יש אחת.

— גלעד ארדן (@giladerdan1) May 14, 2018
The sixth week of the Great Return March protests has been the most deadly, with 55 fatalities reported so far on Monday. Erdan placed the blame for the deaths solely on Hamas, which is in power in Gaza.
"All responsibility for the bloodshed lies with the leaders of Hamas, who, with Nazi anger, endlessly shed blood to erase from people's memories their own failures in the management of the Gaza Strip. Here it is, the truth." he said.

READ MORE: 'Terrible massacre': Israel kills 52, injures 2,410 Gaza protesters as US embassy opens in Jerusalem
Erdan said that Israel "does not wish to escalate and doesn't want the death of residents of the Gaza Strip." He said that the people who do want this are "solely the leadership of the Hamas terrorist organization, which uses a cynical and malicious use of bloodshed."
His comments echo talking points of other Israeli politicians and army spokespeople who have made efforts to frame the Great Return mass protests at the Gaza border as a ploy masterminded by Hamas to attack Israel. Organizers of the march have denied this is the case.
The government minister previously called for anyone who sends a burning kite, molotov cocktail or camera to land in Israel to be "treated as a terrorist in the middle of a terror attack."
Like this story? Share it with a friend!
You can share this story on social media: