'No moral failures': IDF finds no wrongdoing in death of disabled Palestinian as UN urges probe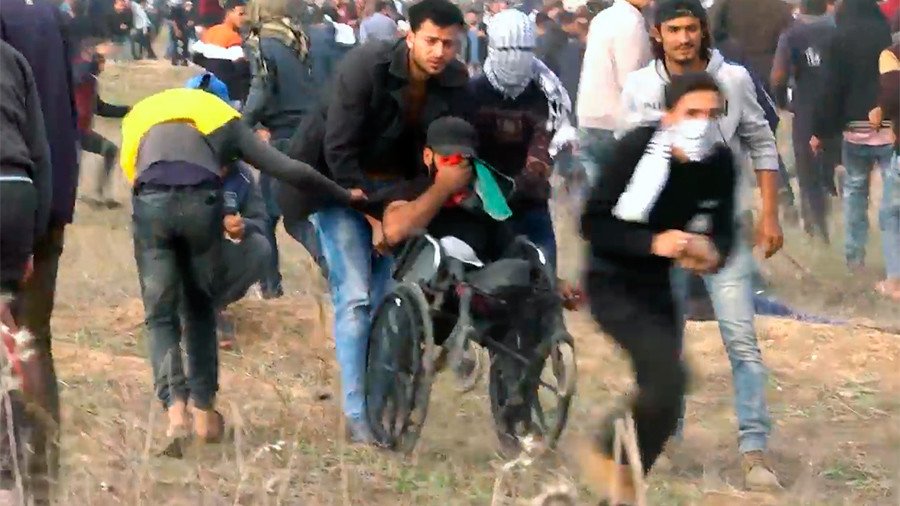 The UN is calling for a probe into the killing of a wheelchair-bound Palestinian during a protest against Trump's Jerusalem decision, despite the IDF stating that it found "no moral or professional failures" related to the death.
"The facts gathered so far by my staff in Gaza strongly suggest that the force used against Ibrahim Abu Thurayeh was excessive," the UN High Commissioner for Human Rights, Zeid Ra'ad Al Hussein, said Tuesday.
At least four Palestinians were killed and more than 150 injured, as thousands took to the streets of the West Bank, Gaza and Jerusalem last Friday. Among those killed was 29-year-old Thurayeh, a disabled activist confined to a wheelchair after losing both of his legs, allegedly, in the Israeli attack on Gaza in 2008.
Social media was flooded with videos and photos of Thurayeh a few hours before his death – sitting in his wheelchair and waving a Palestinian flag. "This land is our land, we will not give up. America has to withdraw its decision," he reportedly said in a video seen by AFP.
Hours later, Thurayeh was shot and killed by Israeli forces during clashes in Anata, a village just outside Jerusalem, where the IDF fired live ammunition and rubber bullets against the Palestinians. The UN human rights chief condemned the mass and brutal crackdown by Israeli forces, describing Thurayeh's killing as a "shocking and wanton act."
"There is nothing whatsoever to suggest that Ibrahim Abu Thurayeh was posing an imminent threat of death or serious injury when he was killed. Given his severe disability, which must have been clearly visible to those who shot him, his killing is incomprehensible – a truly shocking and wanton act," Hussein said.
He maintains the IDF acted against international human rights law which strictly regulates the use of force against demonstrators. "The lethal use of firearms should only be employed as the last resort, when strictly unavoidable, in order to protect life," Hussein pointed out.
The Palestinian's brother told Ruptly that Thurayeh knew he would not be coming back from the protest alive. "Yesterday my brother said to me while he was eating dinner us: 'Brother, forgive me. This is the last night you will see me. And you, my mother, forgive me, and you my sisters, you all forgive me...'
"He kissed the hand and the leg of my father and said to him: Father, forgive me. This is the last night you will see me, as I intend to be a martyr. I am bored of this life, I have no legs and I have nothing. I want to die and rest from life."
His mother told Ruptly that her son wanted to "sacrifice himself for the homeland," adding that "he has become a martyr." His father said that his son died for Jerusalem.
Following the backlash over the death of the 29-year-old disabled Palestinian, the Israeli army announced Sunday that it was launching an investigation into the case. On Monday, the IDF said its investigation found "no moral or professional failures" in the incident. Israeli troops were also cleared of any wrongdoing, according to AP.
According to the military, no live fire was aimed at Thurayeh during the "extremely violent" Friday protest. "Few controlled shootings were carried out towards main instigators," an Israeli military spokesperson told +972 Magazine on Monday. "Troops received approval prior to shooting each round by a senior commander in the field. No live fire was aimed at Abu Thuraya."
The military said it was impossible to determine the Palestinian's cause of death, and that it has repeatedly requested information on the man's injuries and will examine them if they are received.
However, Israeli military investigations are often criticized by rights groups and Palestinians who allege that they are neither independent nor effective, citing a low indictment rate. Meanwhile, the military, insists its system works.
At least five people have been killed so far and over a thousand injured as Israel continue to fire live munitions, rubber bullets and other dispersal weapons to crack down on Palestinians following Trump's December 6 declaration which spurred mass unrest, the UN said Tuesday. Palestine's Maan news agency, however, estimates that at least 10 Palestinians were killed in the two weeks of ongoing clashes after Hamas urged a new intifada to liberate Jerusalem. The use of live ammunition has resulted in over 220 people being injured in Gaza, including 95 on Friday alone, according to UN figures.
"This level of casualties raises serious concerns as to whether the force used by Israeli forces was properly calibrated to the threat," Hussein said. He urged Israel to "immediately open an independent and impartial investigation into this" and other deadly incidents. "And these events, including the loss of five irreplaceable human lives, can sadly be traced directly back to the unilateral US announcement on the status of Jerusalem, which breaks international consensus and was dangerously provocative."
You can share this story on social media: