Organization of American States starts Venezuela suspension procedure after US call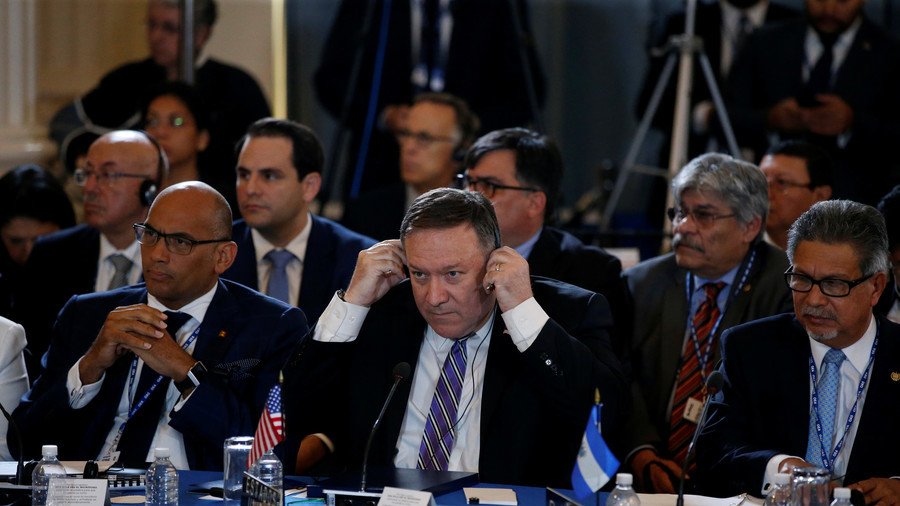 The members of the Organization of American States have voted overwhelmingly to start the process that could lead to Venezuela's suspension from the pan-American 34-state body, accusing Caracas of clamping down on democracy.
At a session on Tuesday, 19 delegates representing OAS member-states voted in support of the resolution that might lead to the suspension of Venezuela's membership in the organization. Only four countries voted against the motion, while 11 abstained.
The resolution was passed by the OAS general assembly "in defense of representative democracy," Reuters reported. It calls for the summoning of an extraordinary assembly eligible to decide whether a country should be suspended.
It comes a day after US Secretary of State Mike Pompeo urged the delegates to kickstart the suspension procedure, saying that it "would send a powerful signal to the [Venezuelan President Nicolas] Maduro regime."
Advocating for new, tougher sanctions to be imposed on Caracas by the 34-member body, Pompeo reiterated the US' claims that the recent presidential elections in Venezuela, won by Nicolas Maduro in a landslide, were a "sham," neither free nor fair.
"Only real elections will allow your government to be included in the family of nations," he said, accusing the Venezuelan government of a "full-scale dismantling of democracy."
Maduro fired back at Washington, branding the OAS "a useless organization" that has been turned into "a ministry of colonies of the American empire." With the US pulling the strings in the OAS, it has been geared "against revolutionary movements, against progressive peoples and independent anti-imperialist governments," the Venezuelan leader argued.
The US has been a member of the organization since it was established in 1948.
The OAS Democratic Charter, adopted in 2001, stipulates that "any unconstitutional alteration or interruption of the democratic order" in a member-state "constitutes an insurmountable obstacle" to its further participation in its work.
The US representative at the assembly, Carlos Trujillo, applauded the move, saying that he is "glad we are recognizing that democracy matters."
Washington has been strangling Venezuela's crippled economy with sanctions since the Latin American country was rocked by a spate of violent anti-government protests last year. Maduro blames the country's woes, which include soaring inflation, recession, as well as food and water shortages, on the "economic war" waged by the "criminal mafia" and Washington against his country.
On Tuesday, Maduro accused the US of "infiltrating" key positions in the state-run oil industry in a bid to "control strategic information," as he pledged to continue his "economic counteroffensive."
You can share this story on social media: