Venezuela expels top US diplomat for 'conspiring' against government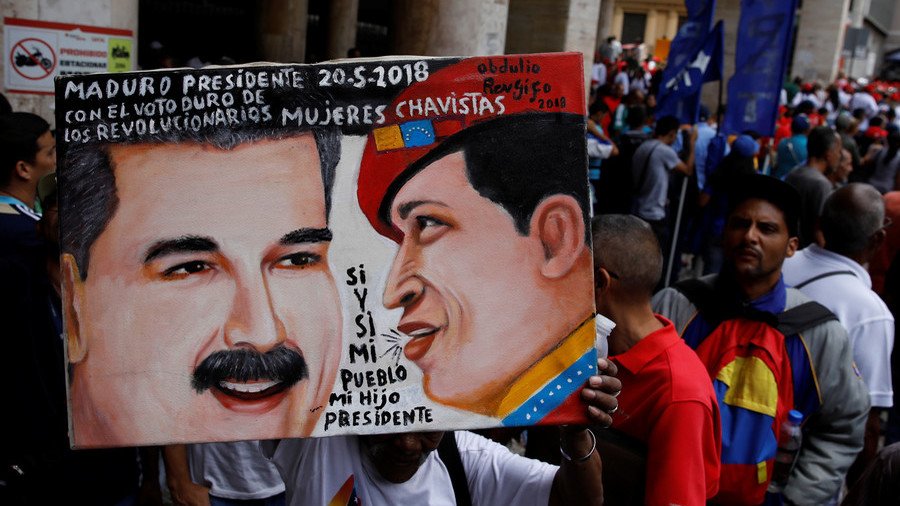 The top US diplomat in Caracas, Venezuela and his deputy have been ordered to leave the country after allegedly conspiring against the government, President Nicolas Maduro announced.
"I have declared him persona non grata and I announce the exit of the US chargé d'affaires in 48 hours," Maduro said on Tuesday, referring to Todd Robinson. His deputy, Brian Naranjo, was also expelled.
The expulsion comes after Washington denounced Maduro's victory in Venezuela's elections on Sunday as a "sham." Maduro won 4 million votes more than the second-placed opposition candidate Henri Falcon, but the turnout was just over 46 percent.
Washington insists that Maduro is running a socialist dictatorship, with US Vice President Mike Pence calling the election "neither free nor fair" and saying the "fake process" was a blow to the "proud democratic tradition" of Venezuela.
The Trump administration sanctioned all purchases of Venezuelan debt on Monday, but stopped short of blocking oil sales.
Maduro slammed the sanctions as "arbitrary and unilateral measures" that constitute a "crime against humanity."
The Venezuelan Foreign Ministry also criticized the "systematic campaign of aggression and hostility" from the United States, which it said was aimed at punishing the Venezuelan people "for exercising their right to vote."
The EU has followed Washington's lead in condemning the Venezuelan elections, saying that the presidential and regional polls "went ahead without a national agreement on an electoral calendar and without complying with the minimum international standards for a credible process."
The US has been piling on punitive measures against the Venezuelan government while claiming to be looking out for the people of that Latin American country. On Friday, the US Treasury blacklisted influential Maduro supporter Diosdado Cabello, his wife Marleny and his brother Jose, alleging they were running a "corruption network" based on illegal drug trade. Cabello, the vice president of the United Socialist Party of Venezuela (PSUV), has rejected the accusations as false.
Venezuela has not had a proper US ambassador since July 2010, after the authorities in Caracas withdrew the agreement for the appointment of Larry L. Palmer, nominated by then-President Barack Obama. His predecessor, Patrick Duddy, was expelled by President Hugo Chavez in 2008, but was able to return and serve out the rest of his term the following year, after the Obama administration restored diplomatic relations with Caracas.
Robinson, a career diplomat, took over the embassy in Caracas in September 2017. Prior to that, he was US ambassador to Guatemala.
Like this story? Share it with a friend!
You can share this story on social media: