US supports Venezuela's democracy by accusing Maduro of drug profiteering ahead of elections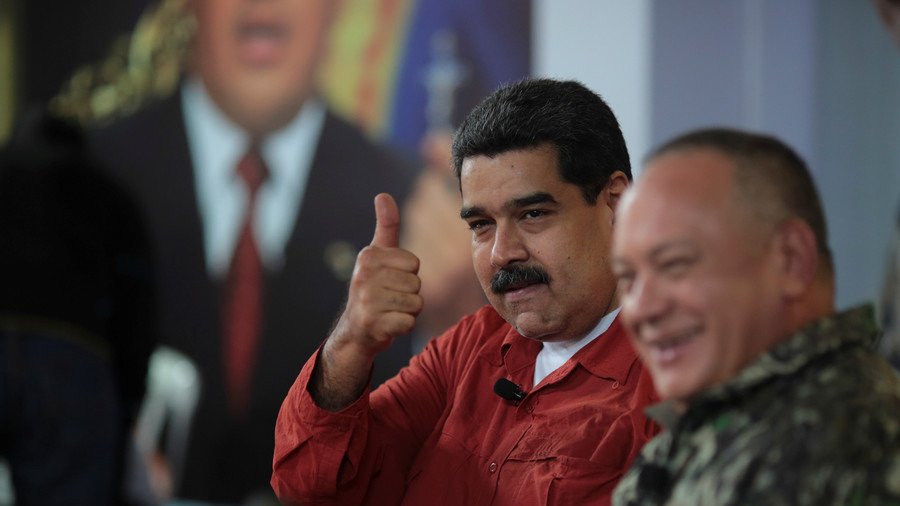 The US has criticized the upcoming Venezuelan elections as 'fake,' and rushed to support 'democracy' by slapping a top ruling-party member with new sanctions and accusing President Nicolas Maduro of drug-trade profiteering.
The "second most powerful man in Venezuela," Diosdado Cabello, immediately brushed aside the accusations and new US sanctions introduced against him for allegedly heading a drug ring. He said such slander would only strengthen the ruling party's candidate, Maduro, to win Sunday's elections.
"In truth I feel liberated, that imperialism is busy persecuting this humble soldier and his family, strengthens me, forces me every day to continue fighting for the causes that I believe and to be faithful and loyal to our beloved people," Cabello, who is vice president of the United Socialist Party of Venezuela (PSUV), said in a tweet after the US Treasury slapped him – as well as two members of his family, and his "front man" – with sanctions ahead of the election.
The US has applied every effort ahead of the May 20 elections to taint the reputation of Maduro and the ruling Socialist Party. Just before the incumbent president's Sunday election showdown with main challengers Henri Falcon, from the Progressive Advance party, and Javier Bertucci, who is running as an independent, Washington went so far as to directly implicate Maduro in alleged drug-trade profiteering.
Cabello, along with his wife, Marleny Josefina Contreras, and his brother, Jose David, were sanctioned on Friday after Washington accused them of running a "corruption network" based on illegal drug trade. In addition to the family trio, Rafael Alfredo Sarria Diaz was also placed on the sanctions list as Cabello's "front man."
"As of March 2017, Cabello seized drug loads from small-scale drug traffickers, and combined and exported them through a Venezuelan government-owned airport," the US Treasury said in a statement. "Cabello, along with President Maduro and others, divided proceeds from these narcotics shipments."
Besides drug trafficking, Cabello has also been accused of abusing his power and influence to "personally profit from extortion, money laundering, and embezzlement," as well as illegal mineral exports. Washington also went on to impose punitive measures against three companies in Florida that are allegedly owned or controlled by Sarria, blocking 14 properties in Florida and New York.
"These designations reflect the commitment of the United States to use every available diplomatic and economic tool to hold accountable corrupt officials and support the Venezuelan people's efforts to restore their democracy," the US Treasury stated.
Cabello's brother, Jose David, meanwhile accused the US of aiming to "divert the attention of the world," from the strong support the ruling party has going into Sunday's election. Washington's sanctions, he noted, will inevitably hurt common Venezuelans struggling to afford "food and medicines."
This is far from the first time that Washington has 'supported' ordinary Venezuelans by introducing punitive measures against their officials and companies. Earlier this month, the United States sanctioned three Venezuelans and 20 firms with alleged ties to Maduro. The US apparently hopes that additional sanctions will eventually bring about democracy in the South American country, which is suffering from declining oil production, hyperinflation and food shortages.
"There will be no real election in Venezuela on May 20, and the world knows it," US Vice-President Mike Pence said earlier in May, urging the Venezuelan leader to suspend the vote. "The Venezuelan people suffer under corrupt politicians who tighten their grip on power while lining their own pockets," said Secretary of the Treasury Steven Mnuchin, echoing Pence's comments on Friday.
Maduro, who himself is subject to US sanctions, repeatedly slammed Washington's punitive measures as part of a broader campaign aimed at overthrowing his government, and said that the policy has nothing to do with drug trafficking, elections or support of democracy.
If you like this story, share it with a friend!
You can share this story on social media: