'Not a matter of censorship': Ecuador FM defends restrictions on Assange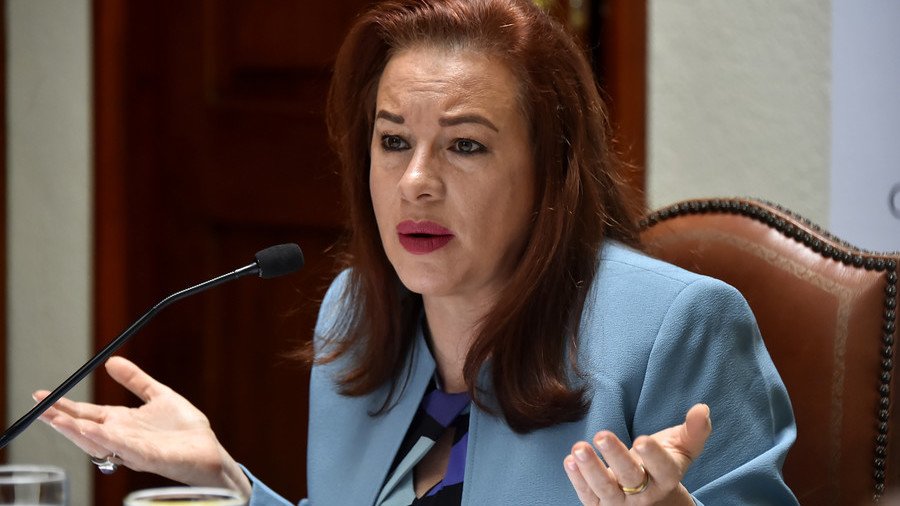 Ecuador's foreign minister is denying her government is trying to censor WikiLeaks founder Julian Assange by restricting his internet access and denying him visitors at the embassy in London.
Maria Fernanda Espinosa defended the move to cut Assange's internet access in March, saying that he disregarded a vow to cease all "political activity" when he spoke out about the poisoning of Sergei and Yulia Skripal in Salisbury. He also made repeated statements about Spain's bid to stifle the independence movement in Catalonia.
"On several occasions he [Assange] has agreed on not intervening in internal politics of third-party countries and unfortunately he has not complied with his commitment, so for the time being he is not allowed to have access to the internet," Espinosa told the Associated Press, adding that the restrictions are "not a matter of censorship."
"I think all parties are interested in finding an outlet, a solution, to this complex situation," she said. Espinosa was speaking from the UN headquarters in New York ahead of an election for the presidency of the next General Assembly.
Ecuadorian President Lenin Moreno, who was elected last year, recently told DW Spanish that Assange "continues to be a problem," but added that his country "will respect his right to asylum if Assange respects the margins."
The WikiLeaks founder was granted asylum by former President Rafael Correa in 2012, and he has been at the embassy in London ever since. Assange was facing charges in the US over WikiLeaks' publication of secret US documents in 2010. His legal troubles in the UK, however, stem from allegations of sexual assault in Sweden, which were dropped last year. Assange feared Sweden would extradite him to the US, which is why he sought refuge in Ecuador. That, however, violated the conditions of his bail, according to the British High Court.
Ecuador is continuing its effort to get Assange out of embassy without him being arrested. The plans have been met with resistance by the British government.
READ MORE: Ecuador will respect Assange's asylum right if he obeys 'no politics' condition
In addition to the secret US documents about the wars in Iraq and Afghanistan, WikiLeaks published emails from the Democratic National Committee (DNC) and private emails from Hillary Clinton's campaign chair, John Podesta, in the month before the 2016 US presidential election. US intelligence officials have accused WikiLeaks of being a "hostile foreign intelligence service."
Assange fears that if he leaves the embassy, he will be arrested by the British authorities and extradited to the US, where he would be charged under the Espionage Act.
You can share this story on social media: