Jaw-dropping street execution fails as gun jams at last second (VIDEO)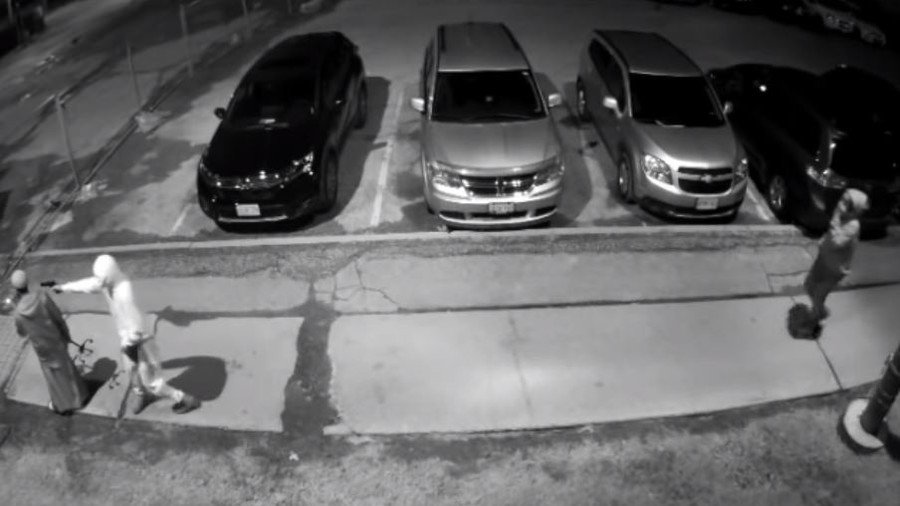 Toronto police are hunting a two-man execution team believed to be behind separate assassination attempts. Both bids failed, one of which was thanks to an astounding gun malfunction at the final moment.
Investigators are trying to trace the hooded duo who were filmed by CCTV attempting to gun down two different men in the Regent Park neighborhood of the city on Wednesday night.
READ MORE: Two men blow up IED inside Indian restaurant in Canada, multiple injuries
In one of the shocking incidents caught on camera, a person in a white hooded top covering their face can be seen pointing a handgun close to the back of man's head before pulling the trigger. However, somehow the firearm does not discharge and the assassin's intended target, who was smoking a cigarette with his back turned, appears unaware of how incredibly close he came to death.
Toronto cops are also investigating a second shooting they believe is related, which happened in the area just eight minutes after the first execution attempt.
A 42-year-old man was attacked near a convenience store on River Street by two men matching the description of those involved in the earlier shooting. CCTV footage shows how the victim received a non-life-threatening gunshot wound while escaping into an apartment lobby.
He had earlier been approached on a street corner by the two armed gunmen, who are believed to still be at large.
READ MORE: 'Totally unacceptable': Canada retaliates with tariffs on US imports
In a statement, the Toronto Police Service appealed for information about the two incidents. It comes after the local police force levelled a total of 97 charges against four people suspected of involvement in a shootout with officers in Regent Park earlier this week. The incident saw a vehicle with four occupants ram a marked police car and fire a weapon towards traffic and pedestrians.
Think your friends would be interested? Share this story!
You can share this story on social media: