'Superhero' firefighter catches falling man midflight from a window below (VIDEO)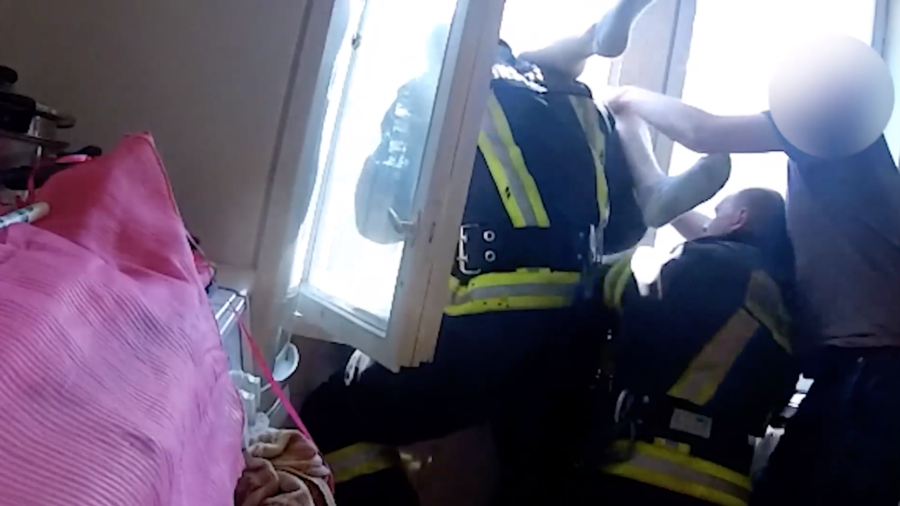 Incredible resourcefulness and improvisation by Latvian rescuers has helped save a person who fell from the fourth floor of a multi-story building. The hero firefighter has managed to grab the victim by the feet midflight.
The members of Latvia's National Fire and Rescue Service (VUGD) responded to an emergency at a multi-unit apartment building last weekend, where a "suspicious" person was hanging "dangerously" from a fourth-floor window. The identity of the victim and the location of the incident were not disclosed.
Not taking any chances, the rescuers decided to proceed with the emergency in an unusually clever way. Arriving at the scene, they split up into two teams. One of the units rushed to secure a 'human safety net' to the apartment below, while the other unit tried to reach out to the distressed person from the roof of the building, using mountaineering equipment.
The rescue, captured on camera from the apartment below, is nothing less of miraculous. It shows one fireman reaching out of the open window extending his body to grab the falling person by the feet, while the other fireman grabbed one of his partner's legs to ensure counterbalance. Seconds later the victim was pulled through the window back to safety.
'Only minutes to spare': Teen clings to 300ft cliff face in heart-stopping rescue (VIDEO)
For their "brave and quick action" as well as the initiative taken to save human life, the firefighters will receive awards. The head of the service, Oskars Āboliņš, emphasized that the unit was "thinking outside the box."
"Being a rescuer is something special. It takes courage, professionalism and the ability to act decisively in complex and often non-standard situations. I'm proud of the two VUGD rescuers who saved a life," noted Interior Minister Rihards Kozlovskis.
If you like this story, share it with a friend!
You can share this story on social media: