'Only minutes to spare': Teen clings to 300ft cliff face in heart-stopping rescue (VIDEO)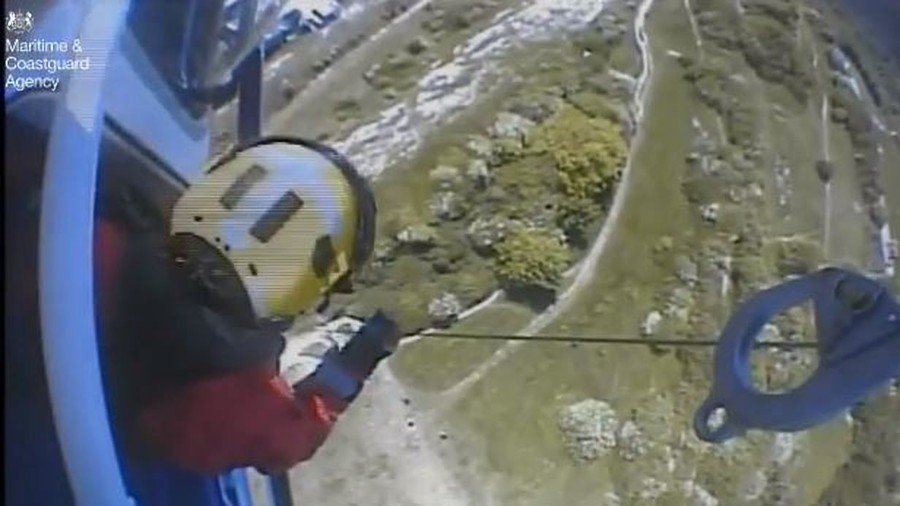 A 13-year-old boy hanging on to a 300ft sheer cliff face was rescued by a British Coastguard helicopter crew with "only minutes to spare," according to the rescue agency.
The extraordinary rescue took place in Langdon Bay, east Kent on Friday, after the boy became stuck in the middle of the steep cliff while attempting to climb it. According to the Coastguard, the child was some 175ft from the bottom of the cliff when he became immobilized.
Video captured by a camera mounted to the rescue chopper shows the moment when the HM Coastguard Lydd aircraft arrived on the scene and found the child "desperately clinging on by his fingernails to the perilous cliff face."
Rescue teams on the ground were unable to reach the boy due to dense shrubbery. "We knew then that it was down to us and we only had minutes to spare," HM Coastguard Helicopter Captain James Lorraine said of the emergency. The boy had already been holding on for around 30 minutes.
Miraculously, the boy escaped his ordeal with only minor scrapes and bruises. "He was very, very lucky," Matt Pavitt, coastal operations area commander said.
READ MORE:Helicopter crews rescue 150 skiers from stuck gondola lifts in French Alps (VIDEOS)
"It only took minutes once the helicopter arrived and in those few minutes we all held our breath that the boy would hold on for a few more minutes."
Like this story? Share it with a friend!
You can share this story on social media: